Live Review: Clinic, Fresh and Onlys, Bombay Sweets at 7th Street Entry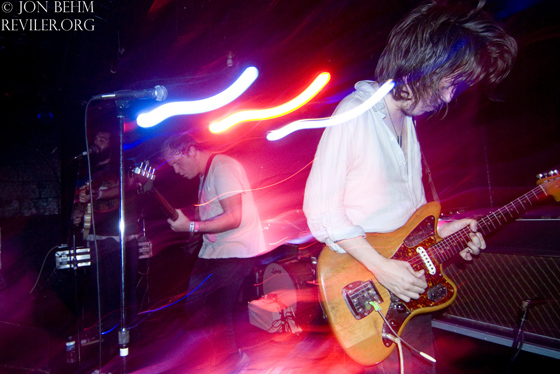 No matter what you think about the British band Clinic, you have to give them credit for consistently bringing along solid openers for their shows in Minneapolis.  While some bands might be hesitant to bring along groups that could upstage them, Clinic apparently do not have this fear (for good reason too, as they are pretty excellent live).  The last time I saw them they had Shearwater opening, and Friday night they topped that double bill by bringing along tour mates Fresh and Onlys, one of the most consistently rewarding garage rock bands around right now.
The show was actually a triple bill, with local rockabilly solo artist (made duo live) Bombay Sweets opening up, playing a solid 35 minute set that set the stage for the wide spectrum of rock that would unfold over the course of the night.  I have seen the Bombay Sweets a few times, and they always bring focused and melodic stripped down retro rock, and are well worth checking out.
For me, the real highlight of the show was my first chance to see the San Francisco based pysch garage rockers Fresh and Onlys for the first time after being a fan for quite a while.  After seeing Thee Oh Sees earlier this year and now seeing the Fresh and Onlys, I am 2/3 of the way towards seeing my three favorite West Coast garage rockers (c'mon Ty Segall, we're waiting!).   While Thee Oh Sees showed the blistering side of late 60's garage rock, Fresh and Onlys provided the shimmering, bright and psyched out pop side of the spectrum.   Highlighting the great material off of their latest release Play it Strange, the group played a commanding and fun 40 minute set that included highlights "Waterfall" and "Tropical Island Suite," amongst other material, both old and new.   Waiting for years to see a band can lead to inflated expectations and a letdown, but luckily the Fresh and Onlys lived up to the hype I had created and proved to be the highlight of the show.
When you get to the headliner and you already feel like you got your value for the night, any semblance of a good performance serves as a cherry on the cake.  This was definitely the case for Clinic, who are a band who are easily capable of winning over a room all on their own.  Supporting their latest release Bubblegum, the group played to the albums more spacey, ambient pop sounds, which unfortunately meant that their dancier, post punk material was more few and far between than I would have liked. When they did ramp up the beat, they had the pretty full Entry dancing, but for the most part they stuck to their more subdued new material.   While it wasn't the best performance I saw by the band, luckily by that point I had gotten my money's worth and was able to head out completely satisfied.
     -Josh
See Jon's whole photo spread HERE