Girls: Broken Dreams Club EP Review (Four Takes)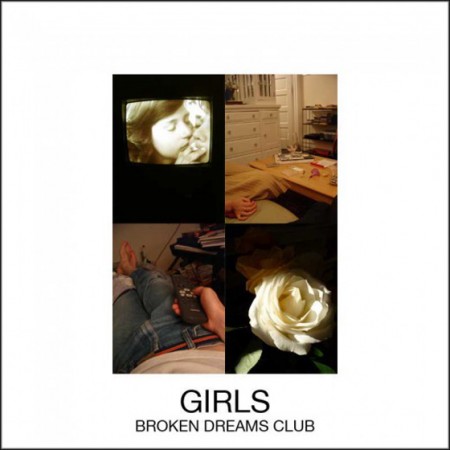 It can be difficult to gain a balanced perspective on an album after reading a single summary of the music. Bias can tilt a review, as can personal taste, history and just about everything else that is unique to the person writing it. So in an effort to offer an expanded perspective in such a medium, here are four reactions, four impressions, Four Takes on the Broken Dreams Club EP by Girls.

Ali Elabbady (Background Noise Crew, Egypto Knuckles)
84/100
There's a lot of things you can say about press darlings Girls.  Their generic debut title, Album, belied their energetic sounds and virtuoso-styled arrangements.  The band's new EP Broken Dreams Club really shows growth and maturity in their arrangements and subtleties.  "Substance" for example is a pure example showing off the melancholic guitar strings, while "Heartbreaker," gives energy to the woozy acoustic guitar for a nice uptempo jam.  "Thee Oh So Protective One" shows a close resemblance to some of the tracks you might have heard on Album, but with an almost bossanova type feel.  The title track shows off their virtuosity in an almost country-like arrangement, but focuses a ton more on the subtleties; each instrument is played with the most meticulous attention to detail possible, and it's a little heartbreaker of a jam.  While it's not yet another full length, it does well to whet the appetite for the folks who supplied Girls with the admiration and attention they so rightly deserve.

Lindsay Schwartz (Radio K)
65/100
Of all the more modern bands I can think of reminiscent of 1960s pop, I'm honestly a bit lost on this one. Sure, Girls' latest release is a bit more fittingly titled for its content than their debut, strikingly reminiscent of The Beatles' "Sgt. Pepper's Lonely Hearts Club." Broken Dreams Club (…) exhibits more of the band's intriguing Elvis Costello-like, soul searching lyrics mixed with a hearty amount of Beach Boys' twang. But while these may be uniquely compelling musical attributes individually, I struggle to pick up on many monumental breakthroughs in their collaboration. Moreover, I just can't shake the feeling that a lot of these songs sound vaguely the same, making the album out to be very much a déjà vu experience of their 2009 release, aptly (and somewhat incredulously) titled "Album" (huzzah?). For the second year in a row, these guys aren't impressing me with anything monumental. Aside from a bit of unexpected pep found in the track "Heartbreaker" (anyone else notice its eery similarity to the opening chords of Broken Social Scene's ever-loved "Superconnected"?), the album in its entirety feels a bit half-hearted… but alas. Is that the point that lovelorn Christopher Owen is trying to make here?! Most of his lyrics fittingly appeal to a lovesick audience afterall – those thirsty for audio that expresses their suffering in personal feats of unrequited love as alluded to in the title of the album. Or, perhaps this is just a band still searching for their musical niche, casually falling into the trap of writing love songs like so many bands do. When these guys hit on something new, I'll be totally amped to listen to them… but for now, I'm ready call it a day on 'em.
Jon Behm (Reviler)
85/100
I had extremely high expectations for Girls' debut Album when it came out last year – and in all honesty I felt a little let down by the end result.  That's all water under the bridge as far as I am concerned, since the band's new EP Broken Dreams Club is exactly what I wanted, but never got, from Album.    It's a tight collection of finely detailed tunes that balances out Christopher Owens' deep sense of melancholy longing with excellent pop chords.  And it sounds profoundly influenced by Roy Orbison, which is something I wish I could say about more bands.  There are tinges of rockabilly, country, and California pop executed throughout – and the brass section is also an especially nice touch.  The immediate standouts are "Alright," as well as "Carolina," and "Substance" is possibly the most moving song I have heard on the subject of recreational drugs.  I am glad that Girls seem to have found their voice and hope that this EP is just the tip of what's to come. 
Josh (Reviler)
62/100
Rarely has a band crashed onto my radar as quick as Girls did with the amazing 1-2 punch of "Hellhole Ratrace" and "Lust for Life," only to fade away upon further inspection.  I remember when I got an advance copy of their debut LP Album and listened through one time, thinking maybe I was missing it.  The songs seemed trite and not anywhere as well thought out as the first two tracks.  The 50's rock sound grew tiresome and the whole project seemed to falter under the weight of the mopiness.  Unfortunately, the groups new EP Broken Dreams Club seems to be even more twee and makes even less effort to spice up song after song that wallow in self absorbed sadness.   "Heartbreaker" sounds like a Album throwaway, the title track adds a slide guitar twang but still sticks to close to the formula, and even the horns of EP opener "Thee Oh So Protective One," can't shake off the lethargy that serves as an albatross for  person who we know has the potential to be a great songwriter. Album closer "Carolina" comes closest to finding that sound I loved initially, but even that track doesn't quite have the engaging qualities that made the band so exciting to me.  Maybe the first two tracks the band released were exceptions and I should let it go, but I can't help but feeling like the title of their new EP represents pretty much exactly how I feel about this band.