Wunky Zine Interview with Brute Heart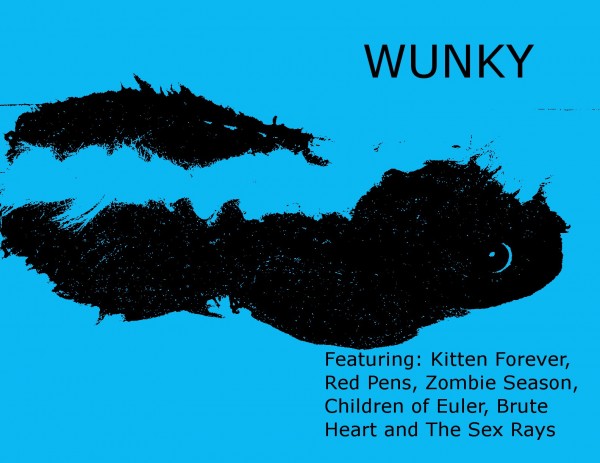 Wunky Zine is a just released local zine that features interviews conducted by former Sharp Teeth frontwomen Erica Krumm with various local bands.  There was a release show recently to celebrate the completion of the Zine and you can now get your very own copy at Treehouse Records and Extreme Noise.  Erica was kind enough to share the interviews with us, so if you enjoy what you read this week as we roll out the interviews, make sure to support our local art scene and pick up a copy. For updates check out the Wunky Zine Facebook Page.  Today we have a chat between Erica and Brute Heart.
October 16, 2010
Munching on fries and sipping wine before going onstage, Jackie (Viola and vocals), Crystal B. (drums), and Crystal M. (bass and vocals) gathered amongst the pinball machines at a cozy table in the lovely, Kitty Cat Klub. Their excitement for music and their obvious love for each other came through  during our fun interview.
Erica- How long have you guys been playing together?
Crystal B- We've been playing together since September 2007, so three years, basically.
Erica- Is that when you started playing shows or when you started practicing and writing?
Crystal B- That's when we first started practicing.
Jackie- Our first show was really awkward (laughing)
Erica- When was your first show?
Crystal B- The winter
Crystal M- No, it was before that like before Halloween.
Crystal B- It was really soon after we started practicing.
Erica- Wait, so you guys started playing together in September and you were already playing shows like a month later?
Crystal M- We all were like, "What did we get ourselves into?"
Crystal B- Our first show was at the Uptown Bar.
Crystal M- It was before Halloween because we had our second show at [secret space] on Halloween.
Crystal M- We had one practice before September…We got together just to see if we thought Crystal was good enough (laughs)
Crystal B- Basically. Cuz I'd never been a drummer before in a band. They wanted a drummer or a percussionist and I was like, "I want to do that!"
Crystal M- One of my favorite stories is that Crystal was like, "I'll play the drums!" cuz I said I was looking for a drummer and then she said, "I'll play the drums!" Like, "Shit, if you need someone to hit something, I'll do it." I was like, Crystal is pretty awesome so I'd love to play some music with her.
Erica- Whats the best part of being in a band together?
Crystal B- Hanging out.
Jackie- Rocking out.
Crystal M- What is the best part? There's a lot of good things it's hard to say what the best thing is.
Crystal B- I think the best part is hanging out and being creative together. I feel like It flows really well and we're really comfortable around each other and we challenge each other but not in scary ways that are intimidating and off putting, in really good ways that end up working out really well.
Crystal M- I think the best part is that, I'm going to fold a bunch of stuff into it, but I love that we express our creative ideas together and we enjoy being around each other, so it's this two fold thing… they re-enforce each other. We can actually communicate through music not communicating a word thought, but we can understand each other.
Jackie- A big thing, too, is not letting pride get in the way. We can verbalize a lot of things and criticism can be really constructive rather than hurtful like it is in some bands.
Crystal M- We are really to open to each others ideas and we're not afraid to share them and I think that's a really great thing.
Erica- That's huge.
Erica- What are some of the main themes in your writing? What do you like to write about most?
Crystal M- I'm really interested in perception and how different things in our lives effect the way we perceive the world around us. I feel really interested in how politics or media or mostly cultural constructs effect the way we understand the world around us. Often times I'm interested in the way we think we know what's going on, but we don't. There's a lot of different themes going on…It's about the human experience and how we're constantly trying to make sense of our world. Or for myself, I'm trying to make sense of the world through the filters of what I'm constantly told I'm supposed to believe versus what I see.
Erica- What is your favorite album of all time, that got you excited about music as a young kid?
Jackie- Master of Reality, Black Sabbath. I love that record. Throughout all of my different musical formations, transitions, growths, I always play Master of Reality no matter what.
Crystal B- The first thing that came to my head was Tribe Called Quest, Midnight Marauders. I still listen to it all the time.
Crystal M- That was the only album I listened to when I was seventeen, not really, but I was like, "There's got to be something I listen to besides Midnight Marauders. (laughs)
This wasn't my favorite album until two years ago, but, Talking Heads, Remain In Light. Especially the song, "Born under Punches," is my favorite all time song that I could hear forever. And then that's competing with Brian Eno's Another Green World.
Erica- What is your spirit animal as a band?
Crystal B- (lots of laughing) Chimera. It was our first band name, it's a mythological creature. It's three animals combined into one. Snake, goat, and lion, I'm pretty sure…
But then there's this super famous metal band from Ohio named Chimera so Crystal's cousin was like, "Oh my god, you're in Chimera?" So then we knew that we had to change our name.
Erica- So who thought of Brute Heart?
Crystal B- Crystal
Crystal M- Jackie really wanted the name brute because we're not brute at all and so we liked that.
Crystal B- We wanted to be The Brutes but then we found out there's a band in St. Paul called The Brutes.
Crystal M- Brute Heart, to me refers to your inner force, your inner visceral animalistic core and yet your still empathetic side, too.
Erica- What is the most annoying thing someone said to you after a show?
Jackie- "Hey LADIES!" (laughing)