An Introduction: Collarbones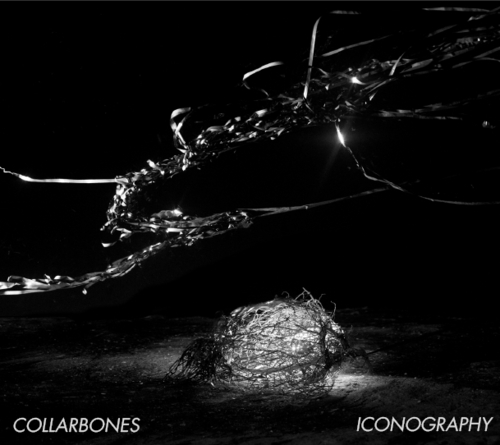 Post-trip-hop? Schizo-soul? Glitch pop? Like the best crossover music, it's hard to pin down the idiosyncratic style of breakout Australian band Collarbones. One of the duo's members, Travis Cook, describes it as "what it sounds like when you stick a second-hand Rihanna CD into your stereo and it skips every now and again." The best way that I've found to describe it is this: At work or at home or on the bus or in the library, I can't stop spinning the album.
Iconograpny, Collarbones' forthcoming debut album, was recorded while Cook and bandmate Marcus Whale were on the opposite ends of Australia. They recorded snippets, chopped samples, and wrote melodies at their respective homes and shared the new parts over the web. Created under such circumstances, it's a marvel how cohesive and polished the tracks sound, how nuanced and aesthetically polished the young band's style comes across.
Collarbones released three singles (with remixes aplenty) in the year leading up to Iconography's release. Listen, download, and try to not get obsessed with the songs on the following Bandcamp widgets.

"Don Juan", as the album-opener and strongest single, sets the tone for the rest of Iconography. Falsetto vocals are prominent yet jaded, mellifluous and peppered with clever flourishes—similar, I think, to the lyrical style of Fiona Apple. Synth elements chitter over a gasping beat, creating a backdrop that makes Baths and Gold Panda look like amateurs.

If Prince's "Insatiable" is the sexiest song to come from Minneapolis, then "Beaman Park" is the sexiest song to come from Australia. Resonant bell-tones and brief glitch-fills pleasingly punctuate a minimal hip-hop beat, while yearning lyrics form a dulcet melody.
Last April, Collarbones introduced themselves to the world with "Kill Off the Vowels"—I'm not exaggerating when I write that it has been included on every single mix I've made for almost a year. The track bridges the tonal gap between crisp, galvanic industrial and sonar-esque, panging trip-hop without mutilating or misappropriating either genre.
Iconography will be released March 18 on Two Bright Lakes.
— Will Wlizlo (Utne Reader)
Collarbones:          Site
.