Vivian Girls: Share the Joy Review (Four Takes)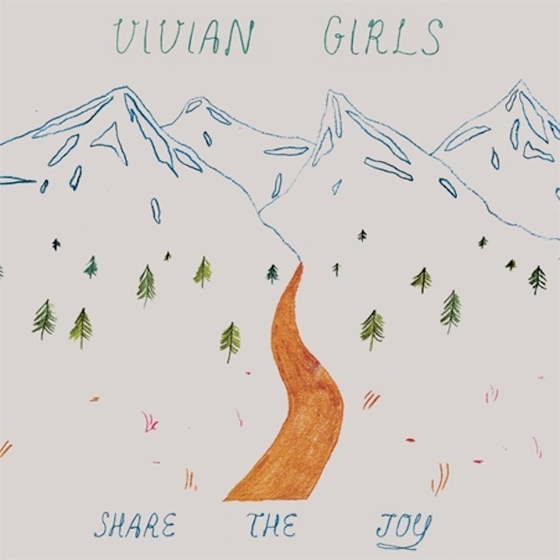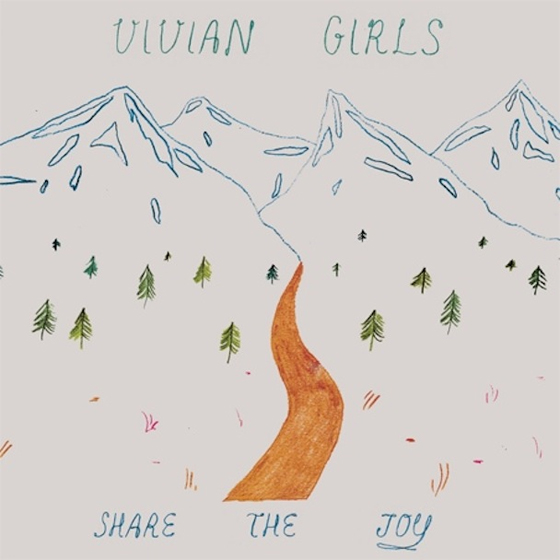 It can be difficult to gain a balanced perspective on an album after reading a single summary of the music. Bias can tilt a review, as can personal taste, history and just about everything else that is unique to the person writing it. So in an effort to offer an expanded perspective in such a medium, here are four reactions, four impressions, Four Takes on Share the Joy by Vivian Girls.

Matt Linden
75/100
 
With numerous side-projects blossoming out of Vivian Girls – between "Kickball Katy" Goodman's All Saints Day and her solo project LaSera as well as Cassie Romones' excellent project The Babies with Woods bassist Kevin Morby – it's pretty impressive they were able to push out another great LP in less than a year and a half with Share The Joy. And after two solid releases, it's no surprise that the girls sound tighter  and crisper than ever on their third full length and first with Polyvinyl. In an interesting twist of song arrangement, the album opens with the six-and-a-half minute chugger "The Other Girl" and is bookended by the album closer "Light In Your Eyes," another 6-minute jam – a curious decision seeing how these two songs alone are three-fold above their mean average of two minutes per song across their entire catalog. Whether this will be a trend on later releases has yet to be seen, but their first attempt at extended, free-wheelin' tracks is fairly well-executed. Vivian Girls aren't exactly reinventing the wheel on Share The Joy, either. It's exactly what you've come to expect from them and common groups like Dum Dum Girls. Although, I dig the latter a bit more. But it's yet another solid release from the Brooklyn ladies and I can see songs like "Take It As It Comes," "Dance (If You Wanna)," "Sixteen Ways" and lead single "I Heard You Say" all becoming new staples in their live shows.

Jon Behm
73/100
The Vivian Girls have never been my favorites of the recent girl group revival bands.  Over the course of a couple years and two LPs my feelings toward the band have been generally indifferent, though considering the blind hatred they seem to inspire in so many others perhaps that's a good thing.  And perhaps it's doubly good that the band's new LP Share The Joy, is coming out soon while all the typical blowhards are still focusing their indignant rage on the Best Coast/Wavves soap opera.  I hope so because Share deserves a fair listen.  While it isn't a terrific album by any means, the first half is easily my favorite Vivian Girls anything I have heard in awhile.  It's jangly and poppy, and a little cleaner and less distortion-heavy than is customary for the band.  Then comes the supremely awkward spoken word parts of "Take It As It Comes," and it's kind a little blah from there on, with the possible exception of "Death." Still, not a bad effort – and I would be more likely to go see the Vivian Girls live to hear "The Other Girls," "I Heard You Say" and "Sixteen Ways," than just about anything on the band's last record.   

John Grimley (Radio K, Green Shoelace)
80/100
Share the Joy is Vivian Girls' third full-length album. The band keeps its fuzzy beach-sound that likens them to Best Coast, who ironically, they lost their original drummer to. The group's third full length does not stray too far out of the band's comfort zone. Instead the band sticks with what they do best, catchy fuzzy songs that blend together after a while. While some tracks, like the opener "Other Girls" add some variety with a mixture of piano, the album itself is solid without much in terms of stand-out tracks. "Dance (If You Wanna)" throws a good twist in the band's fuzz-pop formula by emphasizing drums and upping the tempo. The album is solid without having much in terms of memorable songs. Vivian Girls know their forte, and they stay the course throughout the thirty-six or so minutes that makes up Share the Joy. Fans of the band will be happy to hear similar songs to those that first endeared them to the band. However, people who enjoy hearing evolution in a band will be a little disappointed that Vivian Girls sound content to stay with what they know. 

Josh (Reviler)
74/100
Listening to the new album Share the Joy, the third from fuzzed out girl group Vivian Girls, I couldn't really muster up a strong feeling one way or the other.  Like their live show, the group is neither a scrappy punk group that challenge the listener nor a really polished pop group.  The same day I had my first run through Share the Joy the seminal work of Black Tamborine popped on my mp3 player and it reminded me even further that the key components of the Vivian Girls work, layers of fuzz, ramshackle drums, pretty but not too pretty female vocals, aren't anything new.  That doesn't mean that it isn't fun.  From the strong 1-2 punch of album openers "The Other Girls" and "I Heard You Say," the group jangles their way through the solid, if slightly underwhelming, 10 song set.  Nothing here that is bad, but with so many groups doing the same type of music, Vivian Girls just don't have the spark that brought them so much attention a few years back when they hit