Malaikat Dan Singa: Suara Naga Review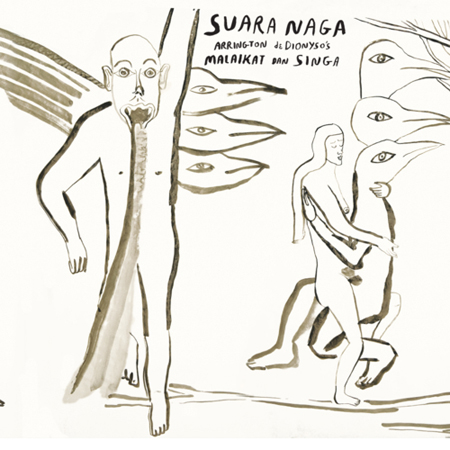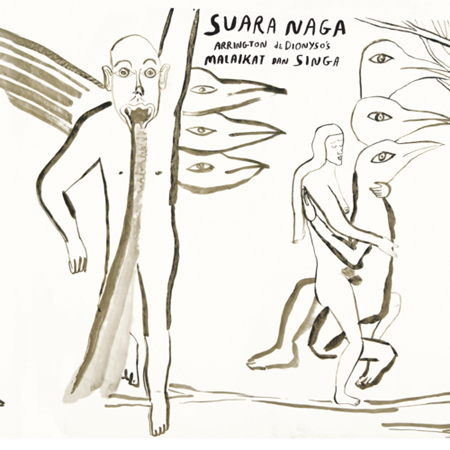 85/100
The press release that accompanies Malaikat Dan Singa's (the new project of Old Time Relijun's Arrington De Dionyso) most recent record Suara Naga contains a telling quote: "you know how in the 1950's the press and parents and such talked about how rock n' roll had some evil, sexual, tribal force that was going to possess the youth? …Malakait Dan Singa is really that."  Throughout the Suara Naga's eleven tracks Dionyso seems to attempt to do just that; by screaming, snarling, and incanting in Indonesian (which Dionyso learned solely for the purpose of this project) the artist seems to invoke dark evil demons of ancient Southeastearn Asian lore with the purpose of  setting them loose to cause havoc.  The effect is both terrifying and intriguing.
While most singers probably couldn't pull off an effect like this – Arrington De Dionyso happens to have a voice that makes Tom Waits seem like a choir boy.  It's really more of a croak than anything – a throaty growl that is perfectly suited for evil shamanic rituals and also, coincidentally, wailing in Indonesian.  Dionyso hollers his head off over mostly stripped down, rough sounding instrumentals consisting of detuned guitars, chimes, bass and the occasional Asiatic stringed instrument (not to mention a bizarre assortment of background noise).  Suara sounds mainly Eastern inspired, but does also take some notable detours into Caribbean rhythms, particularly "Bianglala" which features the Wayne Smith's bassline from the famous "Under Me Sleng Teng" riddim.
Indonesian. Demons. Screaming incantations.  If the whole thing sounds like a bit of a gimmick well, it is.  It also, however, happens to be one of the most interesting gimmicks I have heard this year.  Malaikat Dan Singa may not be a concept that will resonate with a large portion of the listening audience out there, but there is a certainly a group of freaks out there that I think will get an immense amount of pleasure out of listening to Suara Naga.  And I for one am happy to count myself as one of their number.
— Jon Behm
Malaikat Dan Singa – Kerasu Kan (Impossesed)
Malaikat Dan Singa will be performing at the Turf Club on 5/7 (more tour dates below)
Suara Naga will be out on K Records on 3/29
Malaikat Dan Singa:          Site
Tour:
Mar 17, 2011 – Montreuil, France
Les instants chavires – W/ Angelo Spencer
Apr 30, 2011 – Olympia, Washington
Northern – W/ Eprhyme and Br'er
May 1, 2011 – Portland, Oregon
Mississippi Studios –
May 2, 2011 – Boise, Idaho
TBA –
May 3, 2011 – Salt Lake City, Utah
The Urban Lounge – w/Tune Yards
May 4, 2011 – Laramie, Wyoming
House Show –
May 5, 2011 – Denver, Colorado
Rhinoceropolis –
May 6, 2011 – Kansas City, Kansas
Riot Room – Spring Invitational Event!
May 7, 2011 – St. Paul, Minnesota
Turf Club –
May 8, 2011 – Dubuque, Iowa
TBA –
May 9, 2011 – Chicago, Illinois
Empty Bottle –
May 11, 2011 – Ann Arbor, Michigan
Arbor Vitae –
May 12, 2011 – Youngstown, Ohio
Cedar's Lounge –
May 14, 2011 – Toronto, Canada
TBA –
May 15, 2011 – Montreal, Canada
TBA –
May 18, 2011 – Brooklyn, New York
Issue Project Room – w/Lukas Ligeti, "Music and Trance" themed evening
May 19, 2011 – Baltimore, Maryland
Windup Space –
May 20, 2011 – Washington, DC
Comet Pizza and Ping Pong – w/Jooklo Duo
May 21, 2011 – Charlottesville, Virginia
Twisted Branch Tea House –
May 22, 2011 – Philadelphia, Pennsylvania
TBA – w/Jooklo Duo
May 25, 2011 – New York, New York
Cake Shop – w/Larkin Grimm
May 26, 2011 – Providence, Rhode Island
Pawtucket – W/Machines with Magnets
May 27, 2011 – Lowell, Massachusetts
119 Space –
May 28, 2011 – East Hampton, Massachusetts
Flywheel –
May 29, 2011 – Buffalo, New York
– special duo improvisation set with Arrington de Dionyso and Steve Baczowski
May 30, 2011 – Buffalo, New York
TBA – Voice workshop
.
best black friday deals
how to use photoshop
lakeland high school
google nexus prime
best buy mastercard