Do Look Back | Binary Star: Masters Of The Universe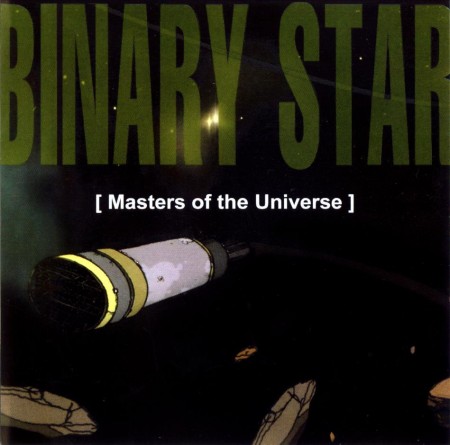 Binary Star only released two albums in their short career as a duo (One Be Lo and Senim Silla) and one of those is mostly just a re-working of the other.  Said re-working though just happens to be a lost classic – an underground rap album that made a huge impression upon its 2000 release but has since largely faded from the annals of rap history (even after being re-released in 2006).  Masters of the Universe is the work of two MC's at the height of their game and remains an excellent example of non-commercial, against the mainstream hip hop.  The record was originally conceived by One be Lo and Senim Silla (Ralond Scruggs and Ross Rowe) while serving time together, and the prison experience inflects every track with anger and disillusion.
And that fury is surprisingly internally focused – Lo and Silla rap about the poor choices they have made and seek to warn others from following the same path.  They paint the current rap establishment as something of a minstrel show and urge their peers to "take their own music back," by promoting the things that matter: i.e. not guns, drugs, etc.  Its an idea that has been repeated time and time again across backpacker hip hop albums innumerable.  What makes MOTU stand out though is both the MC's intelligent, quick witted lyricism as well as a dizzying array of jazz inflected beats.  Across twenty four tracks (though a lot of these are split out intros and outros) MOTU reflects both the best of the past (notably a similarity to Pete Rock's production style) as well as clear-eyed view of the future, made effective through the duo's hard-earned legitimacy.  It's a future when hip hop is reclaimed as a form of expression as well as a tool for social change.  It's also a future that seems terminably stuck in arrested development as back then as well as today the rap charts are still dominated by the same garbage.
Unfortunately One Be Lo and Senim Silla never really did make the impression that, perhaps, they were hoping to make on the minds of the day's black youth.   The duo split paths due to "creative differences" shortly after MOTU's release, and neither has done anything nearly as notable since.  The name of the duo, Binary Star, originated from the idea that "each artist can shine as a soloist but are so close they are bound as a group."  It would seem that neither was true.  While One Be Lo has had some success as a solo artist, his star has never shined as bright as it did when it was paired with Senim Silla's.   At least we still have Masters of the Universe though as a legacy – a tribute to a good idea whose light has been extinguished.
— Jon Behm
.