Live Review: Dom at 7th Street Entry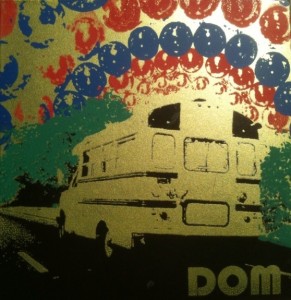 Going into Thursday's show at 7th Street to catch Massachusetts buzz-band Dom, I had a mixture of expectations. Between the general love/hate response to the band's debut EP Sun Bronzed Greek Gods, the troubled and convoluted back story of their starry-eyed, off the cuff frontman Dom, and the band's seemingly overnight success had me wanting to see if the hype before passing my own judgement. When their EP dropped last year the band had barely been a together more than a few months and only some time after that, Dom was poising his band to be "the Madonna of garage rock." Which is a lot coming from a meek dude whose flowing hair makes his face barely visible for the bulk of the show. In my opinion, the debut showed a lot of promise. Though there were veils of hazy synths throughout the seven tracks, underneath there were immense guitar riffs and an incredible knack for larger-than-life hooks and choruses. And while the band is gaining steam with their dancey single, "Living In America," after their show, the band proved they are more than just a gimmick or a one-off. More on Dom later.
Kicking off the night was local sonic grab bag band Fort Wilson Riot. Though the band has functioned and recorded as a four piece before, they are now a tight duo with Jacob Mullis and Amy Hager switching between vocals, keys, guitar and beat machines duties. If you have heard anything about Fort Wilson Riot, you'd probably heard about their extremely energetic and theatrical live shows. They certainly lived up to the hype. Flowing through new and old songs, Mullis and Hager throw down multiple layers on each track to create a very bombastic experience. While many of the songs function around big-beat drum loops and electronic blips, their hooks are vintage tinged, creating an interesting balance between modern and retro sounds. One of the highlights came later in the set where the two played an down-tempo, drug-induced track that sped into fiery chorus and excellent guitar solos from Mullis. And although they may have been an odd pairing sonically to Heavy Hawaii and Dom, they held their own and it was nice to see such an energetic local opener for the national acts.
Next up was Heavy Hawaii, the San Diego-based band whose name is enough to invoke a few sonic expectations: surf rock hooks, '50s rock leanings and some added keys for some chillwave sensibility. Or maybe they would fit the bill for the Enchantment Under the Sea Dance. The five-piece band blazed through their set of hazed-out stoner surf pop that was all immediately agreeable. While HH could drawn comparisons to other California surfer rock bands, they wrapped their tunes in wooziness that makes their set very hypnotic and gloomy as they trace through swaths of reverb. Lead bro, Matt Bahamas, has a kind of manic delivery that brings a kind of sinister side to their otherwise dreamy, sunny numbers. The band hit a much-needed energetic stride towards the end of their set to ready the crowd for headliners, Dom.
Dom hit the stage, long flowing hair and all, not too long after HH finished and by that time the Entry floor had been filled. The first thing I noticed about the stage set up was the lack of synthesizer, an instrument used on virtually every song off the EP. The band kicked off with a mainly instrumental song with lead man Dom yelping through his fiery locks that completely covered his face. They then blasted through two songs off the EP, the exuberant, hook-laden "Jesus" and "Bochicha," and immediately got the crowd shuttering. I gotta admit, this was the most movement I've seen in the Entry for some time. After cruising though a few tracks, including the cheesy, '50s style talk-y "Telephone," Dom proclaimed, "Well, it seems fitting we play this song in Minneapolis," before kicking into Prince's classic, "Little Red Corvette." While the band has been playing the song on tour, I wasn't sure if it was going to go over well even for a hometown crowd, but once Dom's high-pitched voice came through the first verse it was impossibly uncanny how similar he sounded to Prince. Really, though, this was the closest I've heard anyone come to Prince's vocals. Ever. After the cover they invited a birthday attendee on stage for their own version of the "Happy Birthday" song. It wasn't until the last few songs that the stargazer synth loops kicked in for the jittery "Rude as Jude" and the excellent Passion Pit-esque "Burn Bridges" that had their guitarist soloing over the crowd. Not surprisingly, the band chose to go with their hit single "Living In America" to round out the set – a decision I think goes against the "do-what-you-want" approach of the band, but that's neither here nor there. Dom far-exceeded my expectations. Their brand of garage pop was performed with almost pitch-perfect delivery and they seemed to be genuinely having fun on stage. All cockiness and Madonna dreams of granduer aside, Dom delivered on the hype and played a fun, high-energy set as promised.
-Matt Linden