STNNNG 2011 Spring Tour Diary: Days 1 – 3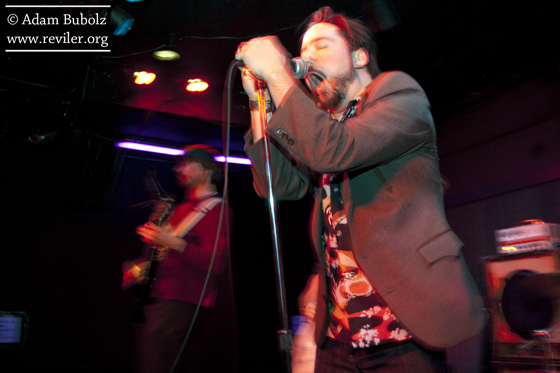 Day 1: Overnight drive in the rain from Mpls to Iowa City
This is our first tour since the fall of '08, our first long run with Ben Ivascu on drums and our first extended out-of-town jaunt since the new record.  We haven't played a show yet and it is already a trip of firsts!  The past couple of weeks have been spent banging ourselves into some kind of musical shape, digging out a few old tunes, writing new songs and learning a cover. I think we are ready.
The tour's first show isn't until tomorrow night but we are going to be spending the day recording material for a collaboration with ft(The Shadow Government) which has been in the works for close to a million years.  So instead of trying to get going first thing on Wednesday morning and rushing to the get the studio we opt for the night drive to arrive very late Tuesday night.  Leaving Minneapolis it is just starting to rain which forty-five minutes later turns to snow.  The rain is steady until we reach Iowa when it clears.  The plan is to sleep at our friend Brendan's apartment, except he isn't even awake when we get there.  His girlfriend Lindsay is on the couch waiting for us, half-asleep herself.  Always strange to meet someone for the first time by walking into their apartment in the middle of the night.  I crash out on the floor under a table in my sleeping bag and get in my first really good non-sleep of the tour.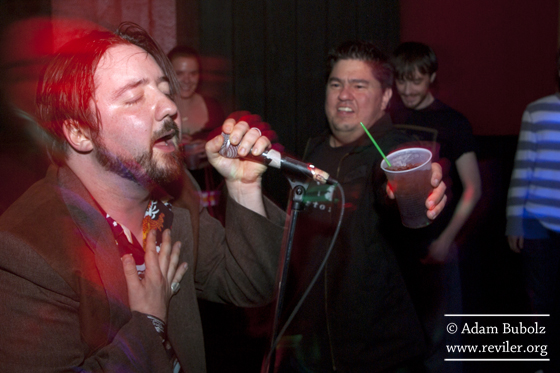 Day 2: Iowa City, recording, show at the Wherehouse, "Party Liquor"
We are driving a van with a trailer this trip and this morning is my first chance at the wheel.  It is a bitch trying to maneuver in a tight spot.  A local citizen walks up to the window and starts giving me directions, in fact during the whole trip pedestrians feel at ease giving me pointers when I'm trying to park the damn thing, it must be the hat, it calms people and makes them think I must be a simpleton. After we get some breakfast and I get food on my clothes we head over to Luke Tweedy's studio, Flat Black.  We briefly meet his new baby then head directly into the studio for the next eight hours to work.  The studio is recently remodeled and it looks/sounds great. The guys lay down overdubs for most of the day, including triangle.  I do my vocals right before we finish and then load out for the gig.
The show is at place called the Wherehouse, a big industrial space.  It is so large that it almost feels like an outside area that's been enclosed, there are sectioned off rooms and buildings inside of it, some accessible only by ladder.  The people who run it have been working on the stage so there is sawdust over everything.  A black and white boxer roams around on the catwalks above us.
Brendan and Lindsay's band We Shave plays first and they are a shambling, minimal garage noise duo.  SuperSonic Piss plays next with America's Joe Ross is playing drums with them, which makes this the 5000th band different I've seen him play with; it is a tight, brutal set.  Biting, high-pitched guitar stabs with a confrontational singer, plus the aforementioned Ross's excellent drumming.  It depresses me a bit to think this music is probably categorized as hardcore or post-hardcore because it's so much more then that.  At one point they play a song that sounds exactly like a Teenage Jesus and the Jerks tune and then another at the end.  Ha, turns out they did TJ & J cover set for New Year's Eve, it is good stuff.
The crowd is young; in fact some are literally still children like the fourteen year-olds ding-dongs dressed like extras from the "It Takes Two" video.  A bottle of Early Times bourbon has been purchased and passed around STNNNG camp, each of us taking a trip back to earlier, simpler times.  I personally take several trips.
Total Fucking Blood plays third, Pete came down from Duluth to lay down his parts for the ShadowGov't/STNNNG record and it means that Adam and Ben are pulling double duty.  By the time we finish the room is basically empty, it being pretty late on a Wednesday night.  We are playing three brand new songs this tour with a plan to record them with Neil Weir when we get back to Minneapolis in a week and a half, so all of these shows are helping us figure out how these songs work.  Two of them are completely new, one in fact we play for the very first time this night.  It goes well.  After the show I'm spent and sweaty, I don't feel like we played all that well but thankfully it was a small crowd and now that we have that first one under our belts the tour can really get happening.

Day 3: Beloit and the naivete of youth
Lindsay and Brendan fix us an excellent breakfast before we hit the road for Beloit.  One of the best parts of touring is getting a chance to spend time with your friends in other towns and it is always a joy when they let you sleep on their floor or make you a meal or help you out in some way.  Touring would be impossible if it weren't for this extremely loose network of friends and fellow musicians.
The drive to Beloit is short, only three hours.  Thankfully none of the drives this trip are more then eight, which considering the price of gas is a great thing.  We have so much time to kill so we stop and see the movie Paul and I think I'm the only one in the band who stays awake through the whole thing.  Also, we see a place that's like Hooters except it has an Irish theme.
First of five shows with Child Bite from Detroit, they have another new line-up tonight and we all get introduced the new guys who seem like swell chaps.  The venue is on UW-Beloit campus in a single purpose rec center, pool tables/foosball upstairs and bar with a stage downstairs.  Playing colleges is a great way for a person to be reminded just how old they are, but the money is good.  Not a huge crowd tonight, maybe around twenty or thirty kids however the beer is New Glarus and they are only two bucks.  I drink about a hundred of them.
Child Bite is playing a set of all new songs and they all sound great, a couple of them are instantly and permanently stuck in my head.  It seems like they're got a different line-up every time I see them but it never takes way from the music.  Really a treat to see these guys again.  They cover "My War" and later plans are hatched for me to sing it with them at one of the later dates.  The local plays in the middle slot and right away they remind me of an Iowa City band called the Tanks.  Same set-up: bassist/drummer/singer, same heavy/goofy approach.  It seems very strange to me that another band would hit on this exact formula.  Afterward I ask one of the dudes if they have ever heard of the Tanks and it turns out Tanks play Beloit all the time and these guys are huge fans.
We play "Grand Island" for the first time on this tour and it feels awesome, it goes a lot better then when we played it at the Loring Theater show a few days ago.  Probably a function of this being a low-pressure gig, but the improv sections feel confident and strong.  During each of the bands a handful of kids come right up to the very lip of the stage and rock out.  I note this later to Shawn from Child Bite saying you can tell how young these kids are because they don't know you aren't suppose to act like enjoy yourself at a show yet.  Everyone is really into it and we get an encore, we play our cover of "Sultans of Swing" which is twice as old as some of the people in the crowd.
Post-show we stay with Sean who booked the gig, he has an apartment on the top floor of the venue so we don't have to load, which along with getting paid a decent amount of money is another rare tour treat.  Ben and I pound several more beers and jaw awhile with some of the kids before heading to bed.  Now the tour feels like it has started.  I fall asleep looking forward to all of these upcoming shows.
— Chris Besinger
STNNNG:          Site
.