STNNNG 2011 Spring Tour Diary: Days 4 – 5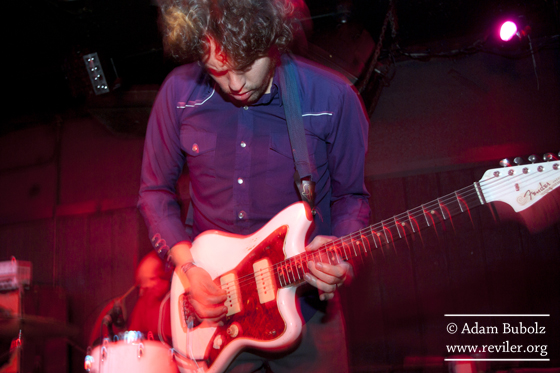 Day 4: Foreshadowing/Detroit/"Sometimes, no matter how well you play, you still feel like you are showing a card trick to a dog"
As we left Iowa City I noticed that the wheels on the van seemed pretty spongy and suggested we might need to have them a professional look at them at some point soon.  Stopping to get gas in Chicago (we nearly run out of gas on the Kennedy, whoops) Jesse purchases a tire pressure gauge and the front passenger wheel is indeed very low.  We put some air into it and decide to have the tire looked on Monday when we are in Indianapolis and have basically an entire day to kill.  Cue the ominous music.
One of the strange things I find about traveling the same routes over and over is we end up stopping at the same places, bars, gas stations, coffee shops, etc only years apart and not usually on purpose.  It just so happens that we need a stop for some reason and it will hit me that we've been here before.  Driving through Indiana we stop at an off-ramp we've been to at least three other times.  It was the same in Iowa when we stopped at a Wendy's I knew we had been to before.  Gong into a chain restaurant which are all designed to appear exactly the same and knowing that you have been to this very same restaurant three years before is an odd sensation.  It makes the trip seem smaller in a way that these places are still there, though obviously there is no reason for them to be gone.
This stop is the first of what I'm sure will be many trips to Starbucks.  I don't ever hit Starbucks at home but out here there are literal oases, not just because the coffee is at least drinkable but they usually have fruit and oatmeal and sandwiches that are almost like real food!  Heaven!  Plus, always a clean bathroom! 
First case of "are you guys a band?"  People are very curious about what five dudes are doing together as a bunch.  The people who ask if you are in a band always, always say "I would totally check you guys out" but they never, ever do. I listen to an interview with Louis CK from Marc Maron's WTF podcast.  It is fascinating to hear him describe his creative process and in many ways I find I can see the parallels to being in a band, writing music and taking it on the road.
Playing in the Mexicantown part of Detroit, close to the bridge to Canada and pleasantly non-apocalyptic in stark contrast to the other places we've played in Detroit.  Venue is a hall over a Mexican bakery; it smells warm & sugary as we load in the gear.  It is the best smelling room we have ever played and there is no runner-up.  I'm usually pleased if a place only smells like wet dog.  There are nice hard wood floors, tall windows, fancy hanging lights and it sounds like total shit. The first band is completely fucking metal.  They have their own light guy, who is also their own fog guy who also has some sort of fog fetish because he proceeds to blanket the room with the stuff.  Standing three feet from the stage you can only dimly make out the band.  I feel perfectly comfortable changing my clothes while standing next the merch table because the visibility is zilch. Do they have a strobe light?  Do you have to ask?  Of course they have a strobe light!  However credit where credit it due, dude uses it very tastefully and no one has an elliptic fit.  I think the guitarist smashes a couple of guitars at the end of their set.  Ben thinks it was a prop guitar, Adam thinks it was the guy's actual guitar but whatever the case the effect is ruined because no one can see him do it. Afterward the windows are thrown open to air the place out and with the soft lighting I feel like I'm on the set of an Adrian Lyne film.
The next band is very sour and everyone in the band is playing a different type of music from everyone else. Despite the sound issues we play our best show yet.  It is one of those very good tour shows where everyone in the band is hitting their stride.  After the lack of sleep, lack of real food, lack of structure, the long drives, the long waits before playing, after jettisoning all the normal parts of your life finding that extra gear and really losing yourself in the moment become so much easier. The crowd seems non-plussed with our performance; not reacting negatively exactly but I can sense a certain distance.  It might be a function of my approach in the band, I don't have an instrument to focus on and I'm usually out of the floor really close to people so it could just be that I am extra sensitive.  Maybe I'm asking too much, because I want them to get wild and really lose it, for the crowd to get into it as much as we do and perhaps that's just not possible.  This is really the dream, playing not simply to a large crowd, but ecstatically demonstrative one. I will admit that the cocky, abrasive front man persona I've cultivated so far this tour (sleazy Fat Elvis multiplied insult comic) probably isn't endearing me to anyone. 
We are finding our footing with the new songs, each time we play them they sound more focused.  Close strong with "Grand Island"; it's easily one of the best times we've ever played the song.  As the ending stretches out it dawns on me where we are, Detroit, the Stooges' town and I channel all my best Funhouse war whoops. Clancy from Child Bite puts his arm around me when we finish and apologizes for the crowd.  "Dude, we always want to be a great show with you guys and its always weird!"  And honestly it's just funny.  It's not as though we could have played any better then we did.  Its then that it strikes me that it doesn't matter how well you play sometimes you still fell like you are showing a card trick to a dog. The CBs play and kill it, afterward we drive out to Clancy's place in Ferndale and I sleep a deep sleep full of strange dreams.  And for those keeping track at home the party liquor in Detroit was two different kinds of tequila.  Silver and gold.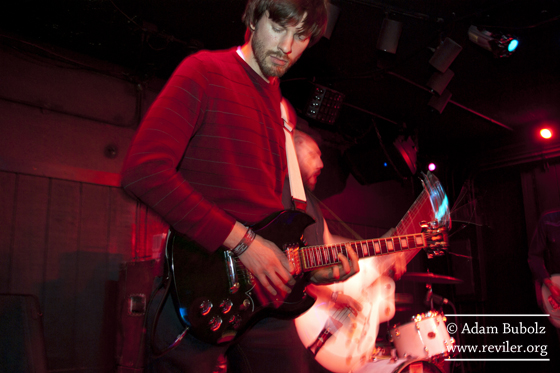 Day 4: Cincinnati, go ahead and try not to make a WKRP joke, it is impossible.
For the first and probably only time this trip I sleep through the majority of the trip in the van.  Cincy reminds me a bit of Philadelphia, at least based on the six or seven blocks of the town I end up seeing, not the largest possible sample size, but I only saw about that much of Philly. 
Tonight the club is the Mayday, the CBs I think hooked this one up, they've played here before and kind of know the deal.  It's a pretty cool space.  The rest of the band dips out after we load-in to get Chili 5-Ways, but frankly I'm sort of scared by the prospect of spaghetti noodles in my chili, the very thought of it makes my stomach turn, so I stay at the club and eat a hot dog instead, call the wife.
Other then the locals headling there is a fourth band on the bill, two girls very barely in their twenties playing precocious pop songs poorly with a drum machine.  And they wear sunglasses onstage.  And they have a note on their merch area that reads "Will Trade Records 4 Drugz".  And they have a "roadie" who looks like a fat Snooki.  And they keep talking about "South By".  And they have only been playing music for 5 months.  And they are probably hugely famous by the time you read this.
Massive foreshadowing part two: Child Bite's van was leaking brake fluid this morning in Detroit, no time for a repair so they loaded up the Focus and will be borrowing our gear for the rest of the shows. Show goes okay, a few people, not many even though it's Saturday night, I think.  I get up and sing "My War" with CB and though I'm pretty nervous and flub a bit of the song it feels great.  No lie; it's probably one of my all-time favorite songs, right up there with "Wild Thing" and "Barbie Girl".
Post gig we stay with some friends of Nate from Omaha who happen to live just a few blocks from the venue.  When we get back to their house it turns out they are remodeling, specifically redoing the floors, so no furniture, no couches and no chairs.  I sleep on the bare hardwood with just my bag for the second time this trip.  It is also cold, but I sleep pretty well.  In the morning they make us breakfast.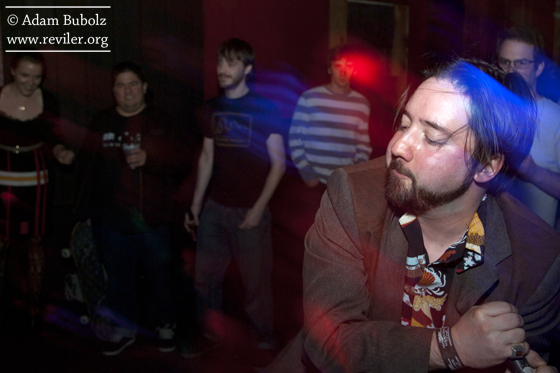 Day 5: Indianapolis, Another Starbucks, Another World
Massive foreshadowing part the third:  Still in Cincy we decide that despite the short drive to Indianapolis today we are not going to deal with the tire since its Sunday and it will probably be a pain to find a place that's open.  We decide to deal with the tire tomorrow in Indianapolis.  Also in a bit of foreshadowing, or maybe a kind of future echo, I notice a little hand painted "No Parking" sign affixed to a fence a few houses down from where we stayed.  The sign is crudely painted, but the strangest part is the "g" is written in lower-case while all the other letters are upper-case.  I immediately flash on something my high school history teacher told me once that upper-case and lower-case letter mixed in the same word is a sign of serve mental illness.  I ponder this as we drive out of town.
Today I break my fast food fast and eat a salad from Wendy's.  Afterward I don't exactly feel guilt because it was probably my best option, but at the same time I don't feel particularly good about it either. First stop in Indy is at Yat's for some really good Creole chow.  Jesse and I set up shop at what else another Starbucks for a few hours.  It becomes clear to me that touring is really all about waiting.  In the van you wait.  At the club you wait.  Short drives reduce the amount of time trapped in the van bubble but increase the amount of downtime.  It's all about the waiting and navigating different types of decompression, from the van, from the waits, from the shows.
Around 8 PM we hit the Vollrath Tavern which is a pretty standard bar set-up, except for the somewhat unusual signs that read "no covers, thank you very much".  They must have been hit in an ASCAP sting.  No "My War" or "Sultans of Swing" tonight. 
A lot of my in-laws and friends are here tonight.  This is good but, it adds stressful elements to the pre-show wait and soon I have to hide myself way in the back room (in this case more of a side room). A great turn out for a Sunday, Burnt Ones headline, they are from here but have recently relocated to San Fran so loads of their crowd is out tonight.  I am completely wound up by the time we hit the stage and all the nervous energy comes flooding out, I'm leaping off the PA speakers, pushing into the crowd, bothering dudes in the other room trying to play pool, the works.  The band sounds tight and focused, though Ben keeps kicking off the songs before I have a chance to get out all my annoying banter bits.  They are definitely in mid-tour mode, raw, wild and loose, we play like we've got something to prove tonight.  I spot Jill from Ari.Ari in the crowd and she helps out with backing vocals during "Real Horror Show".  Again I think on something Louis CK said in that podcast about wanting the shows to mean something that it is important for him to feel like there is something at stake and I certainly feel that way about our music, otherwise what's the point in playing at all?  This one feels as though everything is at stake.  
Post-gig someone mentions that I was playing like I had to get something out of myself. After some hemming and hawing about where to stay we hit a late night bar.  A dude at the bar buys me a drink, which is very kind and then he tells me I remind him of Eddie Money crossed with Steve Perry "but in a good way".  Thanks chief.
 — Chris Besinger
STNNNG:           Site