Do Look Back | Mickey Newbury: Frisco Mabel Joy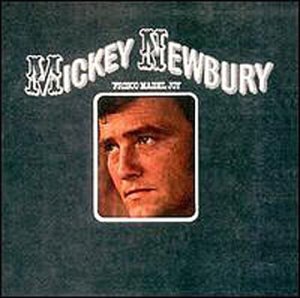 Though generally known as a country artist, Houston born Mickey Newbury had a much wider musical palette than the country tag implies.  In fact, what Newbury is perhaps most famous for is being the only artist to have four top ranked songs across as many different music charts simultaneously (pop/rock, easy listening, R&B, and country) with three of those tunes being number one hits.  Newbury's range was much more expansive than is generally perceived today, and now that Drag City has decided to reissue his storied Cinderella Studios trilogy, hopefully that scale will be able to be once again appreciated.
The most famous of these Newbury re-issues is 1971's Frisco Mabel Joy, a concept album loosely based on traveling on the road and missing a San Francisco sweetheart.   Frisco contains Newbury's best known work, "An American Trilogy," which was made popular by Elvis Presley.  "Trilogy" is a medley of traditional tunes "Dixie," "All My Trials" and "The Battle Hymn of the Republic."   And though the trilogy remains Newbury's most accomplished song from the record, the remainder of Frisco is also packed with a diverse assortment of great songs.  Some, like "Frisco Depot," or "How Many Times (Must the Piper Be Paid for His Song)" evoke an almost psychedelic folk feel (Ralph Emery once called Newbury the first "hippie cowboy").  This sense of the surreal is fairly understated – but it's also pushed by the record's continuing return to a tinkling-chimes-in-a-thunderstorm motif – an aspect that lends mystique to the sound as well as a lonesome sense of the blues.
Frisco's country sound is also well developed – "How I Love Them old Songs" is probably the best example – a honky-tonk banjo, pedal steel, and barrelhouse piano joint.   And many of the tunes sound like country with a hefty dose of the blues.  Lonesome harmonica-inflected "San Francisco Mabel Joy" and "Mobile Blue" being prime examples.  And lest you disbelieve in Newbury's R&B chops – "The Future's Not What It used To Be" sounds indebted to Sam Cooke (as does some of the vocal work in the interludes) though when Newbury sings R&B he tends to sound more like Dr. John. 
Perhaps most importantly – Frisco Mabel Joy contains heaps of great songwriting from a man who was, much like contemporaries Kris Kristofferson and Townes van Zandt, a "songwriter's songwriter."  In his own time this gift for writing seems to have mainly benefited other musicians (many Newbury penned songs became bigger hits for more popular artists).  However in pretty much all of these cases the best version remains the original (sorry Elvis).  Now that Newbury's re-issues have seemingly led to his "re-discovery," hopefully many younger listeners will now be able to recognize the talent that so many others did in Newbury's lifetime.   Fans of another Drag City acolyte, Bill Callahan, should especially take note.  Callahan name-dropped Newbury in a track off of his recent album and the influence can be heard throughout his work.   And if Bill Callahan can become wildly popular amongst music lovers (he is) then there's no reason why Mickey Newbury won't again as well.    
     — Jon Behm
Mickey Newbury – An American Trilogy
All three of the Mickey Newbury reissues are now available via Drag City
.