The Blind Shake : Seriousness Review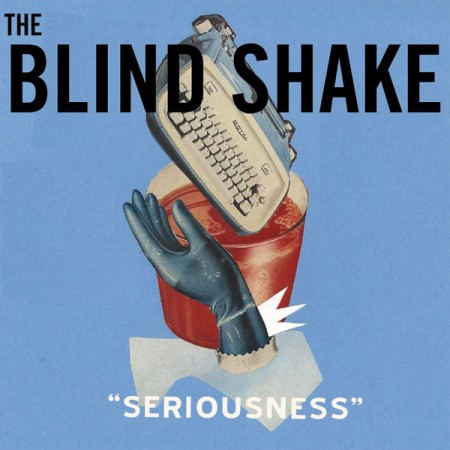 90/100
After a long a fruitful period of collaboration with experimental guitarist Michael Yonkers (giving us the excellent Carbohydrates Fluorocarbons and Cold Town respectively) Twin Cities garage/stomp stalwarts The Blind Shake have gotten down to the business of releasing their second (solo) full length record.  Seriousness follows up 2007's Carmel with a return to the precisely modulated sonic assault that marked their debut.  That isn't to say that the brothers Blaha and drummer Dave Roper haven't learned anything though.  If the tunes on Carmel were blunt, punk-inscribed instruments, Seriousness is built on a similar chassis, though with a great deal more florid guitar distortion layered on top.  Particularly on the album's front end, like in the classic Blind Shake–sounding stomper "Hurracan," which mid-song dissolves into a squall of psychedelic guitar distortion.    
And while Jim and Mike Blaha experiment with punk, surf, and psychedelia with their brutally detuned and endlessly aggressive guitars, the beat falls to Dave Roper who punishes his drums with cadences that manage to sound both precise as well as maniacal.  And those intense beats stay consistent throughout most of Seriousness while the rest of the sound takes a more varying route than the band's past offerings with tinges of anthemic punk ("Sold My Beatle A," 'I'm Not an Animal") experimental hardcore ("Out of Work") and psychedelic squall ("Seriousness" "O Rider") not to mention a menacing current of surf rock that gives tunes like 'No Rags" a vintage Link Wray buzz.  And in perhaps the band's most notable departure yet, Seriousness ends with "On Me" and "Hand Me Downs," two songs that are as far from the Blind Shake formula as the band has thus far ventured.  The former is a Zombies-esque 60's psych and the latter, an acoustic (!) led bluesy stomp.
The Blind Shake have long been known for their instantly recognizable sound that they perfected on Carmel and broadened in collaboration with Michael Yonkers – and with Seriousness that sound is still no less identifiable.  If you hear these new tunes coming out of St. Paul's Turf Club from two blocks away you will still recognize the familiarity.  However, with this broadening of the band's musical range the trio has crafted a much wider, nuanced range of sound without sacrificing too much of their identity.  Seriousness should be regarded as a serious step forward in the band's musical evolution – and one that hopefully won't be its last.    
     — Jon Behm
Check out a handful of tunes off of Seriousness here
Purchase the record here
.