The Bombay Sweets Review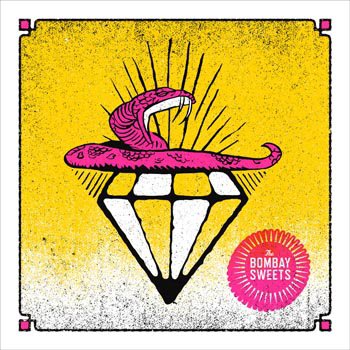 87/100
You may remember The Bombay Sweets from the inaugural Reviler Podcast earlier this year. Or hopefully, you already know Nate and Jeff from their years around town playing in the Selby Tigers, The Dynamiters, Arm, Monarques, His Mischief, and a bunch more. The Bombay Sweets "formed" a couple of year ago as Nate Grumdahl's solo project before adding Jeff Brown on the cocktail drum kit (that's the small standup drums for the nonknowing). A few years and a lot of gigs later, the self-titled EP is the first (slightly) longer collection of songs, following a couple of 7" records and a out of print demo CD (which you can still find online).
The opener, "I Take You Alone," is a quick burst of frantic surf rock that sets the record's pace. For a two-piece band, The Bombay Sweets' sound is very full, which might be partially because of their secret weapon the EKO K2 bass pedal, which fills out some of those missing bass tones. "Wolf's Breath" and "Happy Birthday (to Petty Reasons)" continue the path set out by the opener while the brief "Your Brutal Mythology" extends the surf guitar breaks. The fifth track, "L'il Lamb," brings things to an almost rockabilly shuffle leading right into the guitar and maraca serenade of closer "You Are Not The Most Important Person In The World."
The self-titled EP is another solid but brief step for the Bombay Sweets' output so far. Here's to hoping we get a full length soon.
-Adam
The Bombay Sweets release show is tomorrow night (8/13/11) at the Turf Club with the always stellar Blind Shake, Birthday Suits and Brute Heart along with celebrity DJ John Reis (Rocket From The Crypt/Drive Like Jehu/Hot Snakes)
Writer / photographer / Reviler co-founder