Chelsea Boys: Night Sweat EP Review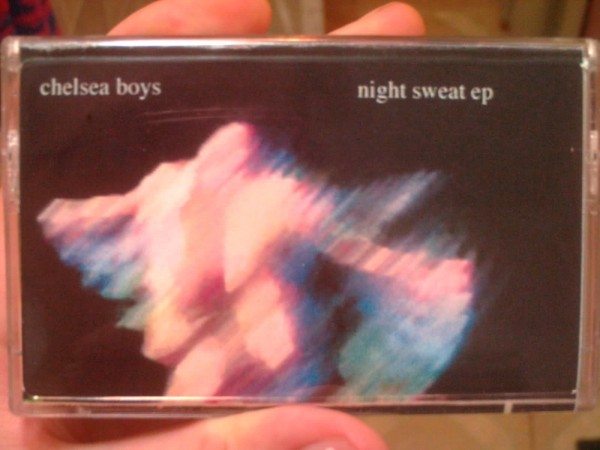 While it was unfortunate to hear recently that local group Chelsea Boys were breaking up , the over (or under?) sexed electronic trio gave local music fans one more chance to appreciate their work with the release of their Night Sweat EP tape, which they dropped last month on the Soothing Almond Collective record label.
The four song EP is short burst of funky electro dance songs,  anchored around the groups synth focused, sexually charged pop songs.  While stringing together campy lyrics and teenage locker room song titles ("Gays and Confused"), the music the group creates is really what made the band stand out. Fans who have seen the group live in recent months will recognize the sounds on the tape, especially the hard charging "Human Body" and the slinky interplay of bass and snyth on live standout "Gays and Confused."  Throughout the short EP, the synths are thick as hell, countered by the melodic guitar stabs (especially on "No Sex") and the galloping drumming that brings the whole sound together.  Recorded by Neil Zumwalde at the New Tectonics Studio, the tape does a great  job of really capturing the hi-fi, glammed out electronic pop madness that the group had developed over the last few years in all of its sonic glory.
The biggest downside of the tape is its "blink and you'll miss it" length, which really leaves the listener wanting more.  While that usually is a good thing as a band, when you aren't going to be a band anymore, it really can leave the listener hanging.  Who knows, maybe the group was less chaotic than they seemed and have vaults of unreleased raunchy electro-funk jams waiting to be released, but I am not holding my breath.  If the Night Sweat EP is the last recording the band do release, at least they will go out on a high note,  corralling their juvenile and loose sound, matching their sexed up energy with  confident and commanding precision on a fun and impressive EP.
Buy the tape from the Soothing Almonds Collective Website
-Josh