Tom Waits: Bad As Me Review (Four Takes)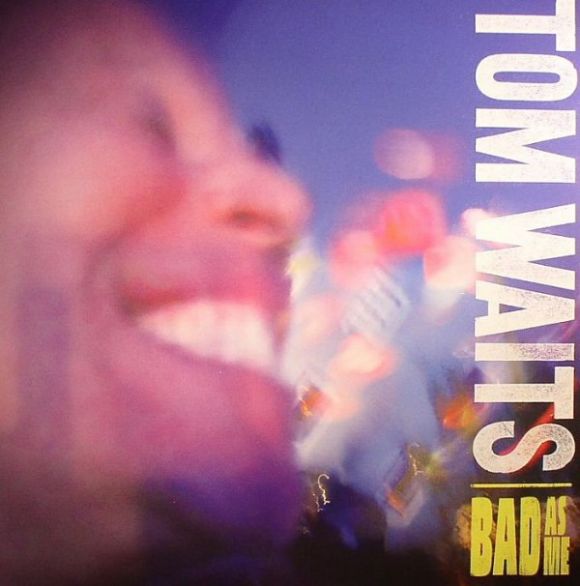 It can be difficult to gain a balanced perspective on an album after reading a single summary of the music. Bias can tilt a review, as can personal taste, history and just about everything else that is unique to the person writing it. So in an effort to offer an expanded perspective in such a medium, here are Four reactions, Four impressions, Four Takes on Bad As Me by Tom Waits.

Chris Besinger (STNNNG)
80/100
Eschewing the dark and clanging noise of Real Gone and Blood Money (actually every record since Bone Machine) Tom Waits's new album Bad as Me may not be as caustic but its production style is just as extreme.  It mimics a mono mix, a mono mix that is then played back through a transistor radio making the album sound like some forgotten crooner's old 78s.  Which of course with Waits is always the point, rarely has someone identified as a "singer/songwriter" taken such pains to create a complete sound world, an alternate reality where torch song singers fronted junkyard jazz bands and had albums produced by Harry Partch that were only released in Mexico.
On the first couple of spins none of the tunes here jumped out as obvious classics and nothing here isn't anything Waits's hasn't done before, which is not to say that he's phoning it in or the performances aren't up to snuff.  He is in clear voice throughout, showing off his falsetto range ("Talking at the Same Time") and his gruff bark ("Hell Broke Luce") in equal measure.  The record's comparatively sunny disposition makes it a throwback to Waits's 80s material, especially Frank's Wild Years.  "Chicago" kicks the record off, pounding like an urgent, almost frantic swing number and "Let's Get Lost" he sings with real joy and glee.  Backed, not only by his usual cast of players, Marc Ribot, David Hidalgo, Casey Waits, and Greg Cohen, but also Keith Richards on several songs, including "Satisfied" an answer tune of sorts to "Satisfaction".   As always with Waits there is also going to be a certain amount of shtick, but on Bad as Me it feels mostly turned down.  The ballads aren't as maudlin or schmaltzy as they could be and he certainly doesn't abandon his love of noise, "Hell Broke Luce" could have been on the first Nick Cave and the Bad Seeds record.  The sequencing of the record is a little odd, it never gets a real flow together with a series of ballads all coming together on the first half and "Hell Broke Luce" sitting awkwardly between "Last Leaf" and the closer "New Year's Eve".  Overall, it's a tighter and more direct album, coming in at a brief 45 minutes (as mandated but his wife and writing partner Kathleen Brennan), maybe not a classic, but hardly a disappointment.

Jon Behm
75/100
I can't believe its really been seven years since Real Gone already. How time flies.  Not for Tom Waits though.  Despite the years Waits seems perpetually stuck in his own time-averse version of Americana, a niche that is easily described in most contexts as "Waitsian."  If you don't know by now what Tom Waits sounds like by now I am going to leave it for you to discover on your own.  Waits' newest record Bad As Me finds the artist once again growling and crooning over a set of brand new songs.   And despite the generally universal acclaim the album has already received (as well as my own Waits fandom) I am only really into about half of the new album.  Most of the first half of Bad as Me is decent but somewhat forgettable, with the possible exception of "Chicago" and definite exception of "Talking At The Same Time," which I had to look up to make sure that, yes, that was in fact Waits singing in a spooky falsetto.  The worst of the lot is "Satisfied" with its cringeworthy lyrics and "Hell Broke Luce," which sounds like Waits made up on the spot.  On the flipside I have found that Waits' sadder side seems to improve exceptionally over time – his ballads 'Kiss Me" and "Last leaf on the Tree" I would name as amongst his best sad sack blues joints.  Overall it adds up to some exceptional, some mediocre and some in the middle.  Frankly I'll take it.  Despite bad As me not really tickling me all the way through I am still just grateful that Waits is still out there making records.

Josh
82/100
Tom Waits has always been an artist that keeps you on your toes, from album to album changing his sound and always mixing and matching his first love of back alley ballads and his penchant for chain rattling, Howlin Wolf inspired folk dirges.  On his latest album, Bad As Me, he changes the game from song to song, showing both his tender and introspective side and his massive, earth shaking rock and roll growl, making an unsteady but rewarding LP.  Waits is tender and worn on tracks like "Talking at the Same Time," "Face to the Highway," "Pay Me," "Back in the Crowd," "New Years Eve," "Kiss Me" and the heartbreaking lament "Last Leaf."  The other half is pure hell and brimstone Waits, lead by the raucous title track and the sinister "Hell Broke Luce."  He is joined by his friend Keith Richards on the album and you can hear his influence on the rootsy "Satisfied" and the wobbly swing of "Chicago."  A listener who is jacked up from the more upbeat material or lulled into tranquility by the slower songs will be quickly snapped back into the reality of listening to a genius chameleon like Waits.  His madcat ideas are so exciting to soak in and his style, indebted to many but beholden to none, is a breath of fresh air in a world full of fakers and thieves.  After waiting seven years since his last LP and then hearing the bursting waves of material so full of life, one can only hope we don't have to wait so long for his next LP.
Adam
90/100
It's been seven long years since we've last heard anything new from Tom Waits and let me tell you this: it's been worth it. Bad As Me is 17th album from Waits and is all co-written with his wife Kathleen Brennan and features the usual cast of characters we've come to expect on a 90s and beyond Tom Waits record: Marc Ribot, Keith Richards, Flea, Les Claypool, etc. Where Bad As Me starts to differ is the programmed elements, samples, turntables experiments and similar have started working themselves back out of the mix into a more classic Rain Dogs era sound.
The records kicks off in a flurry of banjo and horns (not to mention Richards on guitar) with Chicago. "Raised Right Men" is pretty standard fair for a post-90s Waits, punctuated by sharp stabs of Organ. "Talking At The Same Time" is a wonderful piece of hazy jazz noir hearkening back to the Rain Dogs era which fades into the souped up Eddie Cochran rock n roll of "Get Lost". Waits slows down on a couple of tracks as well, the accordion ballad "Pay Me" and the scratchy record sound of "Kiss Me". We even hear Waits hitting his heaviest with the metal-esque guitars and stomp of "Hell Broke Luce". It's the title track however that is the standout of the entire album with a split personality set of vocals and Marc Ribot's always fascinating guitar playing.
Bad As Me is the strongest offering we've seen from Tom Waits in a few albums and one of the better things I've heard all year. It seems that the longer we have to wait (Bone Machine to Mule Variations was the last 7 year break between albums) the better we get.