Trouble Books and Mark McGuire: S/T Review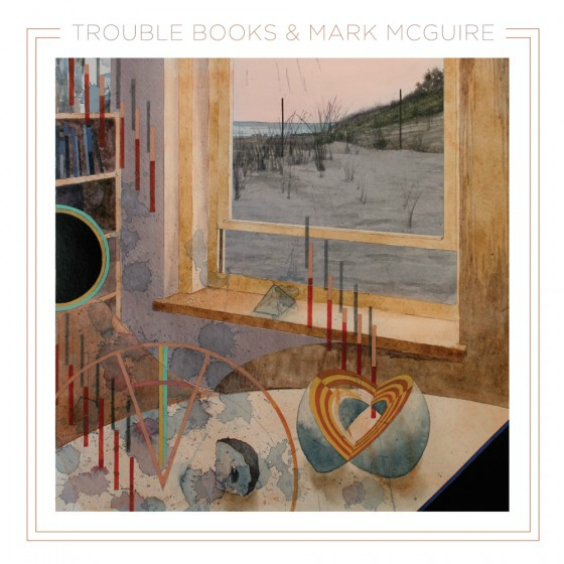 81/100
I am enough of a fan boy for Mark McGuire that I not only blindly bought his new collaborative LP with fellow Ohio space cadets Trouble Books, but I bought the vinyl package that included the last two Trouble Books LP's based on the fact that he liked them enough to work with them. Such is my respect and admiration for Mr. McGuire and his ambient soundscapes, which luckily was reaffirmed on this new self titled LP that dropped recently on the Bark and Hiss record label.
The record is filled with the gentle pop songs, drifting like a peaceful river at the bottom of a cavernous valley. As is suspected with anything McGuire gets his hands on, the tracks have a deep seated debt to Kosmische music, with the ambient/new age vibe washing over the whole record. The vocals, which I think are delivered at various points by all three artists, rarely rise above a hush and constitute another peaceful layer as the record unfolds over its eight song lifespan. Songs like album opener "Floating Through the Summer" and "The Golden Waste" sound like more ethereal Sufjan Stevens if he was really jazzed about Living With Yourself. The previously mentioned ""Song for Reinier Lucassen's Sphinx" features McGuries trademark ambient textures, with a slight nod towards the crescendo driven post-pop of Sigor Ros. "Local Forecast" and "Uploaders Destiny" are the easiest to identify McGuire's influence, with the former being an especially good seven minute mind warp of soft synths and warbly vocals that hypnotize the listener.
I will admit the vocals, especially the more pop/twee ones, were a little off-putting when I first dove into this record coming from a perspective of a big Mark McGuire fan. His songs are so emotive and memorizing without words, it seems almost like an unnecessary addition that ended up being a distraction. After a few listens I came around to the fact that, for the most part, the vocals are an excellent companion to the tapestry that the trio creates, and the record continues the impressive streak the McGuire is on. Grab the LP from Bark and Hiss and keep an eye out for the new Mark McGuire solo LP and his other current project, Amazing Births.
Trouble Books & Mark McGuire: Trouble Books & Mark McGuire by alteredzones