Eddy Current Suppression Ring: "So Many Things" Review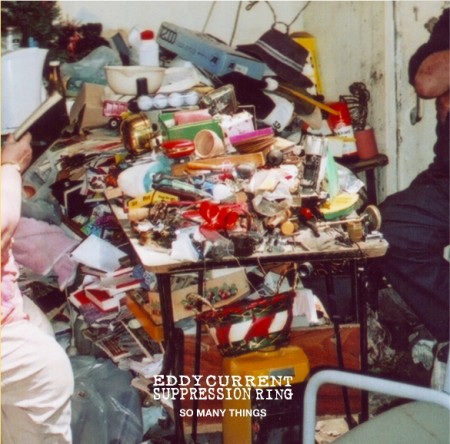 It's a testament to Melbourne garage punks Eddy Current Suppression Ring's skill that this year, a scant five years since the group's debut record, they already have enough good spare tunes to put out a singles album.  And a double one at that.  The quartet will release So Many Things on Goner records this year, and while some of it is alternate versions of tunes from their three LP's, most is culled from the band's massive back catalogue of 7 inches and EP's.  And a lot of it is quite good – so good that it's fairly mind-boggling that some of this stuff hasn't had wider exposure.
"Get Up Morning," for instance is a blistering assault that bludgeons the ear with repetitive riffs while Brendan Suppression screams unintelligible lyrics over the fray.  And despite the band's sort of slacker punk aesthetic, they execute some pretty tight rhythms and excellent hooks.  "You Don't Care" brings a vintage organ element to the sound as well as a bit of pop jangle.   Supression's vocals though, which range from a Mark E. Smith styled spoken word to unhinged screams, keep the pop element in check.  The jangly garage melodies and Supression's gritty punk snarls make a fine juxtaposition, balancing each sticky hook with a menacing threat.  For more great examples, look no further than the shambling organ jingle "We'll Be Turned On," guitar workout "That Time Of Day," experimental march "Iraq (It's on the Map)" or many others.  
As lengthy as So Many Things is, there was bound to be a bit of ballast.  And while the record is definitely more weighted towards the positive, amongst the 22 tracks are a few clunkers that I will leave you to discover for yourself (and perhaps love more than I did).   And it should go without saying that, as with any compilation, So Many Things doesn't exactly hang together in a harmonious balance.  To concentrate on a few weaknesses though would be a disservice to a record that is largely exceptional.  Pick up a copy of So Many Things at Goner Records and delve into the singles yourself.
     — Jon Behm
 
Eddy Current Suppression Ring – You Don't Care (from the new release "So Many Things") by GonerRecords
Pre Order So Many Things here
.