Do Look Back | Little Ann: Deep Shadows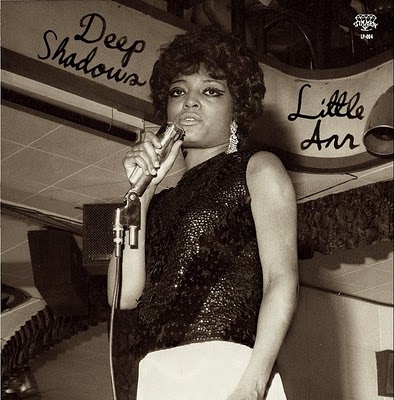 The story of Little Ann is the stuff of record collecting legend.  A Chicagoan soul singer in the sixties, "Little Ann" Bridgeforth had only released a solitary single before recording an albums worth of material for Detroit producer David Hamilton.  The album was never released though.  For over thirty years the reel sat in Hamilton's vault until one day in 1990, a couple of British Soul enthusiasts unexpectedly came across it.  The collectors were instantly wowed.  That led to several of Little Ann's singles finding their way onto Ace/Kent (an influential British imprint) compilations, which in turn led to the singer finally receiving some undue credit for her quality work. 
It wasn't until 2009 though when Timmion records finally gave Deep Shadows the full treatment, releasing the record it in its entirety.  Unfortunately it came too late for Bridgeforth (who died in 2003) but luckily it's certainly not too late for us.  Deep Shadows contains eight excellent tracks (and an additional instrumental) that range from the sultry piano tinkling titular track to the brass inflected funk of "Lean Lanky Daddy," not too mention "Who Are You Trying to Fool," a perfectly preserved Motown artifact.   While Bridgeforth's vocals sound a bit unpolished next to some of the more finely tuned releases of the Motown Era, there is no denying the force of personality behind her voice.   Little Ann evokes heartbreak, love and strength the way few singers can – and even when her voice sounds close to breaking you know it's certainly not because of lack of will. 
Deep Shadows is currently available via British reissue wunderkinds Light in the Attic.  Check it out to hear a little slice of the past that never got its proper due. 
     — Jon Behm
Listen to tracks here
.