Why Concert Photography?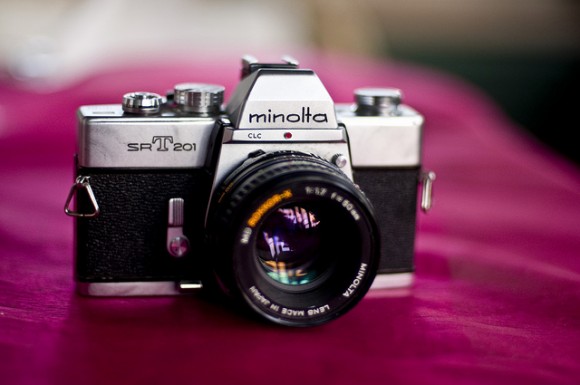 It happens all the time.  I'll be in a tiny music venue, packed to bursting with people, trying to jostle for position. Trying to keep from having to go to the bathroom. Trying to avoid the glares of the fans that sneer at my camera. I think, "Why do I continue to photograph concerts?" In many ways it truly is a thankless pastime. Recently at one such show I decided to make a list of the pros and cons of concert photography, partly to see if the goods outweighed the bads, and partly just to get my frustrations out there and see if other photogs felt the same way. Here is what I came up with:
THE DOWNSIDES OF CONCERT PHOTOGRAPHY
1. People think that you and your camera somehow infringe on their enjoyment of a show
You can be just another face in the crowd and everything is cool, but the moment the camera comes out, somehow you are now actively ruining a show for someone. The reasons I have heard for this are numerous. There is the popular idea that if you are photographing the show, you can't also be enjoying it—so you should get out of the way of the real fans. Then there are the people who think that the existence of the camera is somehow an unacceptable distraction, even when it doesn't affect their sightline, isn't being used with a flash, and otherwise makes no discernable impact on the show. And even if there isn't an experiential reason to dislike the photographer, then the haters can always fall back on photographer prejudice. Perhaps this is due to some of the admittedly obnoxious photographers who have ruined things for the rest of us. Regardless, the camera often invites scorn, warranted or otherwise.
Oh, and did I mention that occasionally even the artists get in on the action?
2. There is no money in it
Some people, like the commenters on this City Pages article, seem to entertain the delusion that music photographers actually make a substantial amount of money for their work. The truth is most of us get next to nothing. Even when shooting for medium to large publications, the financial remuneration often amounts to scraps or gas money. And it is hard work; a typical show often involves having to arrive early to get a good position (a position which you can't leave for the duration of the show, whether for a beer or for the bathroom, because you will lose it), working into the wee hours of the night editing said photos and making sure that they achieve the exact and strict specifications of the publication, as well as the extra stuff that is often expected (like captions). When you add up the amount of money made versus hours worked, you could do better flipping burgers. And once said media outlet has paid you one or two dollars for each photo you send them, they own the rights to those photos forever. Don't try and get any extra cash if they end up using one for a future spread. This is all, of course, only relevant if you're lucky enough to be working a paying gig. Seventy five percent of the time, most music photographers I know do it for free.
The market for individual shots is no better. There is plenty of demand for good work, but an overwhelming amount of supply means that media outlets can often find someone who will give up a shot for free. To be a concert photographer is to constantly be propositioned by people asking to use your photo "for credit"—which is an attempt to mislead photogs into believing that "getting their name out there" will eventually lead to paying gigs.  More often than not the only thing it will lead to is more requests for free photos.
And don't get me started on the contests. There are thousands of photography contests worldwide, many of them for concert photos. The sad fact, though, is that these contests fall into two camps: 1) money-making schemes to generate dollars from contest entry-fees, and 2) scams to get people to submit their photos (and give up their rights in the fine print) so said photos can in turn be used for profit by stock photos houses.
3. There are too many photographers
Despite the numerous downsides of concert photography, lots of people do it.  It's not uncommon to be at a show in the Entry and see the entire front row of fans holding DSLRs. In some ways this is great—when I started out shooting I absolutely hated the people that would treat me like I didn't deserve to be there because I wasn't a "real" photographer. I encourage people to shoot concerts whenever I can, because I think that the more competition there is, the more it will force each of us to improve. The fact remains, though, that to be a photographer often means competing for position with a dozen others intent on getting the "best" angle. It's just one more challenge that makes the life of a concert photographer more difficult.
4. The trend in concert photography is toward more control, tighter restrictions, and less emphasis on photographers' rights. 
Often photo contracts imply a so-called "rights grab," meaning that by signing it the photographer gives up any rights he/she may have to any photo they take. Not signing means not being able to shoot. Some people are fighting back (the City Pages notably has taken a stand against the worst contracts), but overall the trend is steamrolling on.  Flickr's Concert Photography group has a lengthy thread dedicated to the bands and publications who are the worst offenders.
5. Success often entails more self-promotion than talent
If you want to "succeed" as a concert photographer, the most important skill you can have is not actually photography. It's self-promotion. Again, the huge number of concert photographers in the market probably doesn't help this. Since the difference between a mediocre concert shot and a great one is often not something most people recognize or care about, recognition is subsequently based more on who has the loudest voice, who has the most blatant self-promotion tactics, and who is in with the right crowd. Now you might be thinking, "Boo hoo, here is yet another guy whining about how no one recognizes his talent." I am not talking about myself, though,I am talking about the legions of talented photographers out there who don't get any recognition simply because they lack the self-promotion and networking skills. Yeah, this is part of life, just like any other profession or hobby. I am not saying it shouldn't be so—just that it doesn't really make concert photography any easier or attractive as a pursuit. Want to get on Pitchfork's annual Best Photos list?  Better make a plan that involves something more than just taking good photographs.  While some of the photos on that list are amazing, there is plenty more that is just plain, well, not bad, but merely "good." Just creating great photos doesn't cut it. What does is often more elusive.
6. Non-concert photographers have an unrealistic idea of concert photography
The attitude that many non-concert photographers have seems to be that concert photography is largely a fun and rewarding pursuit. And don't get me wrong, it can be. But common assumptions, like the notion that you get to hang out backstage with the bands, are generally false. Mostly it means you have to carry around heavy equipment, go to great lengths to secure a spot, and deal with assholes who think you don't deserve to be there. Concert photography can be both fun and rewarding, but generally not for the reasons that people think—which implies to them that it's more fun than work.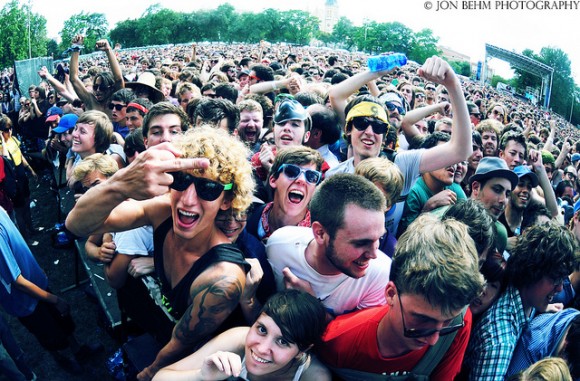 So it sounds like I really think concert photography is a bum grind, right? Well, I don't. Despite it being a pain in the ass a lot of the time, as well as an occupation with very little recognition or future, I still love shooting shows. I plan to stay a concert photographer for the following reasons:
THE UPSIDES OF CONCERT PHOTOGRAPHY
1. It's a great way to practice shooting people
One of the hardest things to do for any photographer is to find situations when you are able to shoot candid moments without being noticed. If I had to list one overarching reason that I am a photographer it would be that I am fascinated by the gamut of human experiences and how they can be captured in an image. This could be through emotions, actions, inanimate objects—really just about anything. The most interesting of these for me is people, and I seek out opportunities to photograph people in situations where they won't notice me. The concert arena is the perfect place to do this, because not only are you capturing the act of someone performing something intrinsically "special" to them, you also go unnoticed except by the crowd (again, see #1 above). I mean, I have never seen an artist stop a concert and ask a photographer, "Hey, why did you just take my picture? Are you some kind of weirdo?" In the world outside though, this reaction is a distinct possibility.
2. It's a great way to "journal" your concert experiences
If you go to a lot of shows, they can start to run together in your memory. While great concerts often involve extremely memorable moments, as time passes those moments are more difficult to recall. Concert photography is a wonderful way to keep a visual journal of every concert you have ever been to, as well as (if you have a swift shutter-finger) those most-memorable moments.
3. It's a great way to get to see shows for free
If you are lucky enough to be able to parlay your photography into the opportunity to see free shows, the more power to you! The tangible benefits of concert photography are so few and far between that if this single factor isn't of great importance to you, then chances are you aren't in the business of concert photography. I love music and I love seeing the bands that inspire me. I couldn't even come close to affording them all if I had to buy tickets. Thankfully, concert photography is my ticket.
If you take a look at this list it certainly seems negatively weighted, but overall I really still do think it's worth it. Occasionally, I have a hard time reminding myself of that. (Often, it's when I am stuck in a wall-to-wall crowd in some tiny venue with overpriced drinks and angry fans.) But so far it hasn't completely destroyed my desire to continue. If any other concert photographers out there have any additional positive reasons please shout them out—I think that, especially in times like these, we could all use a few more good reasons to keep shooting.
— Jon Behm
.