Ecid: "Werewolf Hologram" Review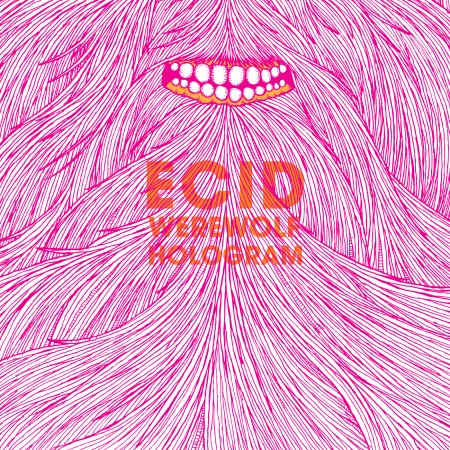 Werewolf Hologram, the fifth official album from Fill In The Breaks head of operations Ecid, is a dazzling, dark, and cynical piece of work.  Coming from humble beginnings on his debut solo record, Biograffiti, Ecid decides to focus on the lyrical content he used on his first four solo records, but manages to expand on the palette of sounds he originally brought on each of his four releases, and what follows on Werewolf Hologram is a lot of play on words, over a wide array of microsampled, yet organic sounds, and a dizzying array of cynical, freshly delivered puns and plays on words that rank among the best work that Ecid has committed to record.
From the eerie, blood-curdling whistles of the title track, to the wheezing synths and whirring, yet sporadic guitar thrashes on "Men Kill Men," Ecid delivers each soundscape with an unflinching calm, even the chops on "I Heart Gravity" are delivered with quite a melodic awareness that is suffering in a post-Bush apocalypse, and that helps further drive the point home on Werewolf Hologram.  Around the time you hit "The Pursuit of Everything In Between" onward, Ecid states that "BOOM! And you don't even know what just hit you," where a dizzying array of melody and microsampling hit on every turn, and even the changeups and breakdowns that are scattered throughout the record, especially on "Go High Lion" where a reggae-like sample are shapeshifted into an amalgamated composition.  At every turn, Ecid orchestrates an opus worthy of his signature sound.
"They're burning up villages in Libya, while we're bitching about sitting on a city bus" he states boldly on "Boo Hoo," while elsewhere on the disc, similar points are brought up, such as "Hey there mister President, how's big business been?" on the sing-along "Incredible," whereas on "March" he exclaims"Holly wood, wouldn't she? Suck the wood right off a money tree and stump the company."  While there are plenty of quotables on the socially accepted norms and constructs of a society idolizing Hollywood & hipsters, perhaps the most crushing blow comes on "Rock Stars Don't Apologize," which is a free-for-all delivered by Awol One, Kristoff Krane, and contains what could be the last posthumously recorded Eyedea verse, and what a verse it is.  Not to obviously take away anything from Ecid of course, as throughout the course of Werewolf Hologram, he is the album's main narrator and does a damn good job of it too.
Coming in at a lean 60 minutes, most would walk away with the notion that its a lengthy record that contains a lot to take in sonically and lyrically, but on the contrary, this is definitely one of Ecid's most focused works to date, and the statements made in this record, along with Werewolf Hologram's commentary, stand to be one of his strongest works as well.  Werewolf Hologram provides quite a ride for the listener, and what an enthralling and strong statement Werewolf Hologram is.
Ecid's "Werewolf Hologram" celebrates its release on Friday, March 2nd at the Triple Rock Social Club. Ecid will be performing along with Kristoff Krane, Awol One, Carnage and David Mars. Chuck U will be present doing live art, who also is associated with doing the artwork on "Werewolf Hologram". Awol One & Ecid will also be doing an in-store at Fifth Element on Saturday, March 3rd.