Flashback Friday: WITCH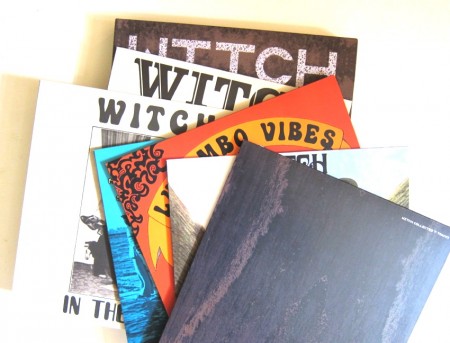 Ah, African Music. Earthy djembe beats, jaunty kalimba tones, awe inspiring call-and-response vocal harmonies, right?  Well, not exactly.  While many people's blanket idea of the genre starts and ends with the Lion King soundtrack, Africa has a musical history as varied and multifaceted as our own.  Dig through the stacks of dusty, little-heard LP's from Ethiopia, Nigeria, South Africa, etc, and you are liable to discover great treasures (in fact labels like Secret Stash, Light in the Attic, and Numero Group have an entire business model based on doing so – not just from Africa but the entire world).
Case in point: one of the most recent "outside the mold" African band to be "re-discovered" is Zambia's WITCH (an acronym that stands for We Intend To Cause Havoc).  Witch were a 5 piece psychedelic rock band that came to define Zambia's rock scene in the seventies (though they were little heard elsewhere). Whereas many of their contemporaries in the era's African pop music canon experimented with mixing traditional African music with the music of the West, Witch pretty much adopted a Western sound wholesale. If not for the accents Witch could have been from anywhere.  And even the accents aren't always a dead giveaway – lead vocalist Emanyeo Jagari Chanda is pretty good at imitation: at times he adopts James Brown's fiery bandleader shouts, at others it sounds like he's channeling Mick Jagger or Jimi Hendrix.  But perhaps in spite of who he sounds like he's trying to sound like, Chanda's vocals are what sets Witch's sound apart from the thousands of similarly minded American and UK bands.  His African accent, if anything, makes the sound more interesting than your garden-variety psych-rock group.
But that's not to say that musically, Witch wouldn't stand up without Chanda's vocals.  The Zam-rock group was also expertly skilled at crafting upbeat, hook-laden rock tunes that parse garage, psych-rock, and soul interchangeably.  They were particularly adept at fusing melodic organ riffs with fuzzed out guitar noodling that varies amongst the popular styles of the day .  The cheaply recorded quality of most of their recordings serves to add an additional layer of grit on their already reverb-laden sound.  It's rock and roll in the mold that today's bands desperately attempt to mimic.
Over the span of their 70's career the band released five albums worth of material. I haven't listened to them all but according to Now Again Records, who are currently reissuing the entire catalogue (plus and album's worth of singles and 7" only tracks) in the form of a box-set, the first two Introduction and In the Past are the more Stones-ish psych/garage while the group's "masterpiece" Lazy Bones!! Is a "dark, brooding psychedelic opus."  The last two records, Lukombo Vibes and Recording Janet, are more influenced by traditional African rhythms and Zambian folk, and Now Again calls them the "most Afro-rock" of the bunch (most likely to appeal to the Lion King crowd).  I can personally vouch for Introduction and Lazy Bones!!, and I am willing to bet that based off of those records, the rest can't be half-bad either.  You can pick up the box set for yourself here, or if you get lucky, you can find one of the previous reissues of some of the single records (but they are generally a little spendy).
— Jon Behm
.