Tara King th.: Uncolored Past (Part I & II) Review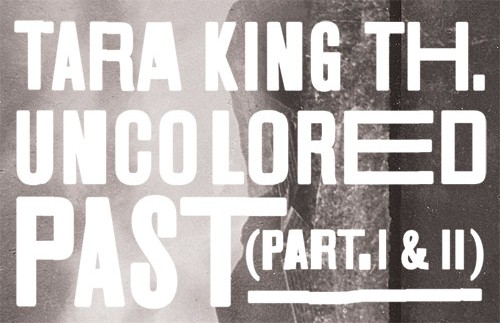 When I first heard Parisian group Tara King th's new cassette Uncolored Past (Part I & II) I thought that I had somehow stumbled across a long lost Broadcast album from that band's more pop-oriented early period. Farfisa organ melodies, delicately textured synths, vocals piped in straight from the psychedelic sixties: These are the legendary Birmingham band's tools of trade. There are such similarities in style, tone, and substance to the that it has to be more than circumstantial.
I think it's wonderful though.  Broadcast's work (or Stereolab's, who also share any of the same influences) is so amazing that I wish more bands were influenced by them. And Tara King th. are definitely not just some poor substitute.  Close listens will reveal that the band has an original sound that not only references the aforementioned bands but also dips into French chanson, vintage garage, and baroque pop as well.  With the aid of woodwinds, harpsichords, and strings (as well as the ubiquitous bass, guitar and drums) the four piece layers texture upon texture of rich, original sound.
The focal point is without a doubt lead vocalist Beatrice Morel-Journel's soft and echanting vocals.  Her gorgeously rich alto sounds effortless as it swirls across the space of each moody melody.  At times she's full of bewitching intrigue, at others she conveys the doe-eyed innocence of Francoise Hardy (Morel-Journel is also backed by at least one other singer at times, making for lovely harmony).  And the band backing her is tight and cohesive – they take Uncolored on a swirling, multicolored journey that dexterously navigates thematic shifts, weaving between "Slow Quest and Misery's" Renaissance roots and the psychedelic guitar squalor of "The Drunk and the Bliss," and then on through the Asiatic-sounding "Flamingo," just to name a few twists and turns.
I may be biased given my love of nearly every musical style Tara King th. incorporates, but in my opinion Uncolored is amongst the top works that label Moon Glyph has ever put out (and the label has fielded more than a few great ones).   I only wish it were available in some format other than cassette, since music this good deserves to be heard by aficionados of all musical formats (though there is a rumor that this may find its way to vinyl soon).  If you own a cassette deck though you definitely don't want to sleep on this one – otherwise, keep your fingers crossed with me for the record option soon.
— Jon Behm
Pick up Uncolored Past (Parts I & II) here