Chelsea Wolfe: Unknown Rooms: A Collection Of Acoustic Songs Review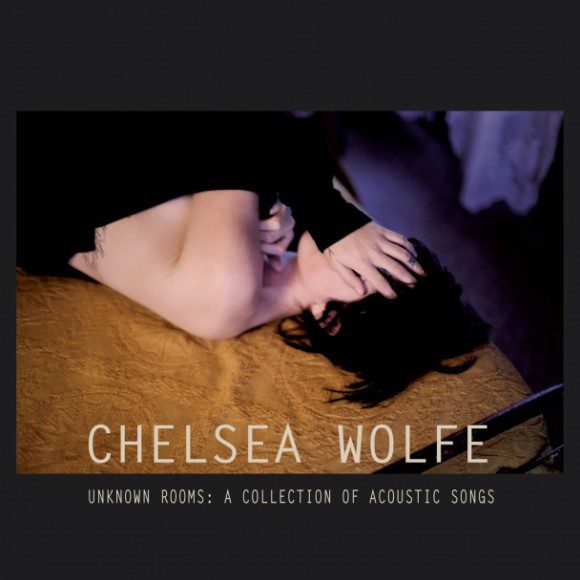 If you are familiar with the Los Angeles songwriter Chelsea Wolfe's material, you might be somewhat surprised by her new record. Although you shouldn't be: it's right there in the title: A Collection of Acoustic Songs.  This is Wolfe's stripped down folk album.  The doomy-gloomy metal/folk artist has always had a melodic side, but I honestly didn't expect it to be quite this pretty.  Unknown Rooms is full of downright beautiful, spare, acoustic-led tunes that feature Wolfe singing over the space of a few chords, alongside the occasional pleasant string and brass accoutrements.
Wolfe has cited Townes Van Zandt as an influence on her work (amongst others) and more than anyone else the country legend's mastery of the mournful ballad seems to be what shines through.  Wolfe maintains a sense of bleak sorrow in her songs, a raw intimacy that feels close yet unimaginably far away.  While the production lends a rich closeness to Wolfe's music, the singer at times sounds a bit lost in the sound. It's not that you have any trouble hearing her – Wolfe's vocals are usually her primary vehicle and at times are practically unaccompanied by instrumentation.  Wolfe herself though sounds distant – as if as she were whispering her innermost thoughts to herself and somehow the studio managed to surreptitiously record them.  This is perhaps never more evocative than in standout "Spinning Centers," which combines ethereal vocal loops, mournful violin, and Wolfe's guitar plucking that at times sounds almost harp-like.  Over this cold, elegant tapestry of sounds Wolfe intones themes of love and death a way that makes both seem mutually inclusive (and in a way, they kind of are).
It's a sound that I think will translate extraordinarily well to the live setting.  Just as Townes Van Zandt's best recordings were all live, the rawness and immediacy of Wolfe's sound might make for optimal listening in the confines of a small venue. Luckily this Friday, one such place (the Triple Rock Social Club) will be hosting Wolfe as she performs many of these new tunes.  I encourage you to experience the pleasure of Unknown Rooms through the medium of a live performance. If these songs shine even half as bright there it should make for an amazing experience.
— Jon Behm