Tender Meat: Live at the Ritz Review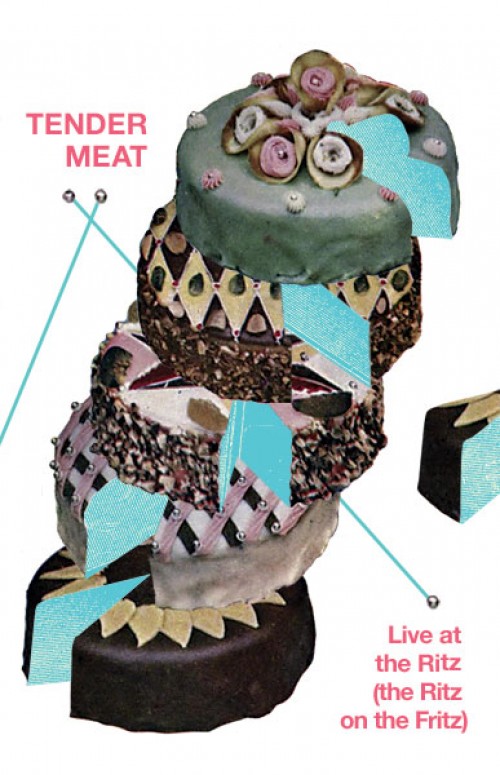 90/100
Live at the Ritz, the new live album by Twin Cities experimental duo Tender Meat (Jon Coe and Andy Fritz), isn't a traditional album, per se.  Though chopped up into five parts (tracks named "Untitled I" – "Untitled V") the tape isn't a collection of tracks so much as a giant run-on space-jazz opera.  Recorded live at Northeast Minneapolis's recent Heliotrope Festival, Ritz blends its tracks together into a single incredibly loud circus of sound.  Similar to the concept behind the flowing electro-jazz of Flying Lotus's Cosmogramma, Live at the Ritz is best viewed as an organic whole rather than a collection of parts.   
The tape begins with the careening haunted house organ of "Untitled I" which quickly immerses the listener in the noise-assault world of Tender Meat and doesn't let up until about 25 minutes later when the music abruptly grinds to a halt.  Inside that 25 breathtaking minutes are packed dozens of hyper-aggressive percussive shifts, stabbing synthesizers, and a host of other carefully orchestrated noise elements that all add up to a heavily intense listen.   
Certain aspects of the record take on an almost electro-tribal cadence, injecting an organic sound into techno beats (notably the drums sound live vs. a drum machine, which makes all the difference in the world).  That organic sense is also heightened by the live production, which lends a gritty, unpolished element to the sound.  Whereas so much electronic music seems clinically sterilized, Tender Meat gleefully lets the jams pulse and vibrate with a life of their own.
At less than a half hour Ritz really only amounts to EP length, but the sheer amount of musical virtuosity packed inside seems to stretch the recording out much longer.   Upon my first listen, by the time the tape rolled into cosmic jazz bludgeon "Untitled III" I was already certain it would be amongst my local favorites of the year and by the time "Untitled V" shuddered to a stop I had bumped it to ranking amongst the year's best national releases.  Live at the Ritz's label Moon Glyph has seen a great deal of success recently with breakout stars Velvet Davenport and Buffalo Moon, but even in that esteemed company Tender Meat stands out as a gem amongst gems.  Coe and Fritz certainly deserve to achieve the same level of recognition as their Moon Glyph peers, if not even more.  Live at the Ritz is certainly a giant step in the right direction towards getting them there.
     — Jon Behm
Tender Meat:          Myspace
.