Orchard Thief: First Dimension Park Review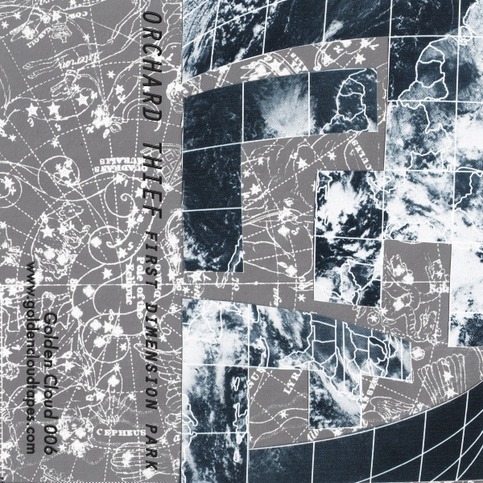 Sam Molstad's tapes are always a welcome listen around these parts.  The young artist who goes by "Orchard Thief" probably releases at least one new tape a year, and it's been extremely interesting hearing him progress from tape to tape. The most recent of these is First Dimension Park, which recently came out on Madison label Golden Cloud Tapes.
Like most of Molstad's work, Park is a meditative journey through wandering guitar chords, sparse drumbeats, and ambient noise.  One noticeable difference is that with every new release Molstad seems to be getting closer and closer to a wholly instrumental sound – Park is almost entirely without vocals.  It also largely jettisons some of the more funk-flavored guitar licks that Molstad seemed to favor last time around in 4 New Songs (though "Night of Evil Green" is an exception).
The tape starts out with "Water Cross" which seems something of a throwback to Orchard Thief's early guitar-and-drum machine sound, in this case with intricate guitar noodling and droning noise over top a heartbeat-esque beat.  "Moving beyond(Land)" picks things up a bit with a propulsive rhythm that slowly and steadily gains momentum until it's a rollicking cacophony of jangling guitar and reverb. Then "Sunset at Camp" takes the pace back down with a lovely pastoral piece of melancholy that seems formless even as it coheres into a spartan, flute-accented tune.  With "Night of Evil Green" further develops the slow-burning psychedelic funk we first heard on 4 New Songs.  It sounds great of not better here, and the murky, spaced-out tune is one of Park's strongest.  "Morning Forage" is no slouch either though – and takes the tape in an entirely new direction with a light, whimsical sound that incorporates sporadic toy piano.  Finally "Ascending the Hill" rounds the tape out with a mind-altering slab of psychedelic drone.
Again, tape after tape, Orchard Thief continues to demonstrate both musical talent as well as an artistic willingness to explore.  Molstad continues to mold and expand his sound, and First Dimension Park is a pretty good microcosm of both all the places the artist has been, with some nods toward potential future new directions. It's the next installment what seems likely to be a lengthy musical journey – and one that is nearly always a pleasure to follow.
— Jon Behm
The release show for First Dimension Park will take place this Thursday, 2/28 at Palmers.