Pharaohs: Replicant Moods Review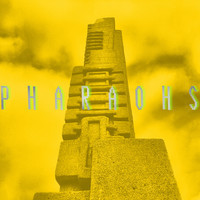 Readers of the site know that I am a big fan of the 100% Silk label, and the Pharaohs 12″ Uhh Uhh that was released last year on the label may be my favorite thing the label has put out. This set up high expectations when I heard that Pharaohs were hooking up with 100% Silk again for their new LP, Replicant Moods, which drops in April.
I was slightly worried by the direction the group was taking when I heard the first song released from the LP: the slinky, goofy, pop leaning "Miraculous Feet," featuring the bubblegum vocals of Maria Minerva, who coo's "you're the best dancer I've ever seen" over a glittery soundscape. The song felt less zoned out and charging than the material on Uhh Uhh, but it ended up being an anomaly on the excellent, all-over-the-place LP. There is an underlying pulse throughout the eclectic record, from the gummy bass and sparkling synth on the album opening title track to the blurry, mid tempo grooves of "F & M Suite," "Beyond Within" and "Again." "Syzygy" rides a bubbly synth line and scooped out bass stabs and would fill up a dancefloor as fast as any new Daft Punk jam, while "Everything" is blissed out house music created by robots in the future. The album is a glittering success, crafting songs that sound buoyant and powerful without ever regressing into cheesy pastiche.
Despite being birthed into my headphones via the midwife that is incredibly high expectations, Replicant Moods somehow is even better than I had hoped. Swinging from kraut based dance-floor bangers to ambient headphone noodlers, Replicant Moods prove that Pharaohs are more than just a one trick pony. I didn't think there was any way I would like the follow up to Uhh Uhh more than that release, but their latest LP proved me wrong. It is a fun, wide eyed album that should please both old fans and new and has set the bar, at least for me, as one of the best albums released so far in 2013.
[soundcloud url="http://api.soundcloud.com/tracks/80132426″ params="" width=" 100%" height="166″ iframe="true" /]