New Split EP From Southside Desire/Black Diet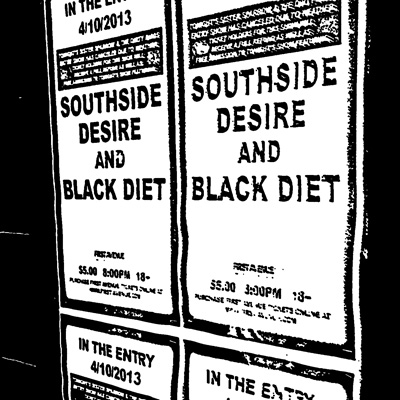 A few months back  we ran a WUNKY interview with scene newcomers Southside Desire, who at the time were promoting their debut record Songs to Love and Die To. A scant two months later the local group has another musical offering for us – this time a split EP with throwback soul group Black Diet.   The 7" contains two tracks by Southside Desire – poppy doo-wop referencing "Casualty of Love" as well as smoldering slow-jam "Better." While the former tune is fronted by the group's primary lead vocalist Marvel Devitt, the latter marks the debut of singer Gloria Iacono in the lead – and it's an impressive turn!
Black Diet's two tunes on the EP are the group's first recorded material.  They have a bluesy soul sound that is fronted by versatile lead vocalist Jonathan Tolliver.  "You Did it To Yourself" is a bass-heavy blues number while ironically "Slow it Down" actually speeds things up to the tune of rollicking guitar and organ.  Both bands will officially release their EP at Palmfest, which takes place at Palmers Bar on July 21st.  You can currently stream the tunes at Piñata Records where you can also pre-order one of 300 limited edition copies. You can also stream the tunes below.
— Jon