Live Thoughts: Billy Bragg at the Cedar + Burgerama at Turf Club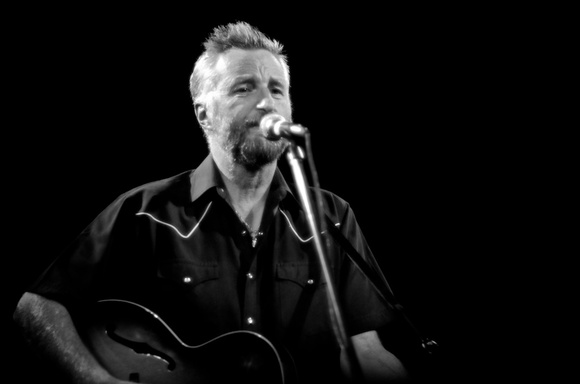 Two shows. Back to back nights. Both wildly entertaining, with each scratching a distinctly different itch.
Thursday night was Billy Bragg, who put on a two-plus hour show at the Cedar Cultural Center that was singer-songwriter nirvana. His political barbs and well-manicured stories had the sold-out, standing room only audience wrapped around his fingers. From his broadsides against the idiocy of our guns laws and healthcare system to his barbs about his home country giving him grief for "going country," his banter provided some brevity between the amazing set he put together. From newer alt-country material (the beautiful "No One Knows Nothing," the sweet "Handyman Blues") to classic Woody covers (the fired up "All You Fascists Are Bound to Lose" and the mournful "I Ain't got No Home"), Bragg and the four piece backing him up sounded fantastic. The end of the set was anchored by his "hits" "A New England " and "Waiting for the Great Leap Forward," with a stirring "Help Save the Youth of America" to close the show on a high note. It was a moving, poignant and powerful evening from one of the best songwriters of our time.
The next night, after being moved by the power of Billy Bragg, I was ready for something a bit lighter and decidedly more visceral, and the Burger Records Burgerama 2013 Caravan tour provided just that experience. Bringing about 38 bands that are connected to Burger Records in some regards to the Turf Club (OK, maybe more like 7), the show was a quick hit, fast paced journey through the various Burger-infused iterations of garage rock. From the jangly opening of Collen Green to the Velvet Underground/spaceman 3 noise-garage of The Cosmonauts, it was a jam packed evening that, like the releases on the label, showed the versatility and depth of a genre most known for its brutally simple structure. Memories and Together Pangea brought the more pop leaning, goofy side of the equation while Gap Dream got heady and heavy with their organ-guitar interplay, which lead perfectly into the spaced out Cosmonauts set that was the highlight of the evening. None of these bands were looking to reinvent the wheel, with each focusing in on simple grooves and power chords.
The two shows seemed to play off each other in a way that I hadn't expected. Billy Bragg left me emotionally exhausted and spiritually uplifted, a legend who not only writes and performs amazing songs but is a powerful advocate for social change. I don't think experiencing anything like that two straight nights would be good for me. But some loud three chord rock performed with various tweaks, with quick turnarounds between bands? That hit the spot. The gathered masses on Friday weren't looking to change the world, they just wanted to get drunk, have some fun and hear some scrappy music, which when you are 22 may actually be a how you imagine you will change the world. Both shows proved uplifting and inspiring, their differences playing off each other to highlight how many different ways that music can really make an impact on peoples lives. Long live rock and roll.