Live Thoughts: Fuzz/Thee Oh Sees in St. Paul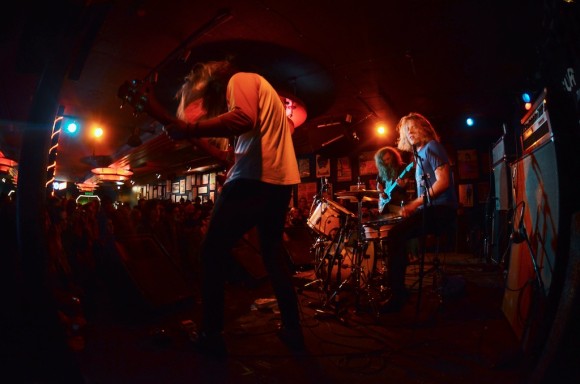 Sunday and Monday night felt like a logical extension of each other, with bands who circle the same West Coast scene headlining back to back great shows in St. Paul.
Sunday night featured the new Ty Segall project Fuzz, who rolled into the Turf Club for a pummeling 55 minute show. The three piece played material from their debut LP (along with their great single "Fuzz's Fourth Dream") pretty much cover to cover, with a few songs stretched out for good measure. They put the "power" in power-trio, with Charles Moothart's guitar work rattling the walls of the venue and Ty Segall thundering away on his kit. Segall was slightly more restrained as a singer behind a drum kit than a guitar, but his primal scream singing cut through the proto-metal churn that the band was unleashing on the fairly-full Turf Club in a majestic way. It was a quick, to-the-point exercise in brute strength and a devotion to all things Black Sabbath done about as well as humanly possible by three longhairs from California.
It was a tough act to follow, but I don't think I would ever put money against scene kingpins Thee Oh Sees. Somehow, the John Dwyer led group have not lost a step after all of these years as a band, most recently spending the last few years creating devil-may-care garage-punk at a clip not see this side of Ty Segall. The four piece (two guitars, keys, drums) pummeled the excitable crowd from the moment they strutted on stage and didn't let up throughout their entire set. (Side note: people were getting kicked out for crowd surfing, which was weird, and Dwyer actually stopped the show and refused to keep playing until they let back in a guy who was kicked out for putting his coat on stage…it was a strange security philosophy to say the least and the venue did not seem totally comfortable with the raucous Thee of Sees fans.) The bands melding of fuzzed-out garage with kraut grooves, pop hooks and helium voiced vocals was as confounding and powerful as ever Monday night. There is a reason Thee Oh Sees have risen to the top of the scene, and their show Monday at the Amsterdam was a crystal clear distillation of that.
Both of the headliners were outstanding, but the shows diverged with regards to the opening bands I was able to catch. For Fuzz, I missed the always great Gay With Abortion, but unfortunately had to deal with CCR Headcleaner. Their 40 minute set was a classic tale of being obtuse for no reason and not having the talent or desire to match their (obviously well thought out) detached irony. It was long stretches of masturbatory garble with the points of returning to a groove or a melody not nearly worthwhile enough to make up for the mostly aimless wandering the band did. They made me (and I got the feeling many in the crowd) count down the seconds until we were allowed to move on to seeing Fuzz play. Monday night was the exact opposite. Starting with new local band Soft Force, there were three solid bands that kept the growing crowd engaged and entertained as we built up anticipation for Thee Oh Sees. Local boys done well The Blind Shake played with their usual blistering intensity on the hometown stop of this tour, and for anyone who had somehow missed them until now they were given a classic performance from the local trio. OBN IIIs were a snarky punk group that came with strong word-of-mouth buzz from Austin, and they showed why with a highly entertaining set. They played a high intensity punk style that left ample room the ranting singing of charismatic front-man Orville Bateman Neeley III and dynamic guitar solos.
At a time where it seems more and more of what is pulling my in musically is electronic (and often ambient/instrumental) music, two nights in a row of down and dirty rock and roll did a heart good. Fuzz can't be really counted as a "new band" with the players they have, but they showed on their first visit to Minnesota that they aren't some thrown together side project, while Thee Oh Sees and the Blind Shake lived up to their massive reputations and brought along two newer bands to round out one of the best four band bills I've seen. The only problem? Tuesday night seems pretty quiet without loud guitars ringing in my ears.