Rock the Garden 2014 Lineup (Reviler Picks)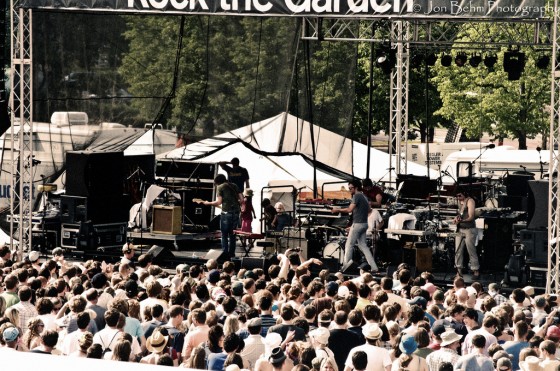 The crowd could not know that they were cheering but somehow they did, somehow they understood that the circle between death-worship and death-wish had been completed for another year and the crowd went completely loopy, convulsing itself in greater and greater paroxysms.

― Stephen King, The Long Walk
It's Rock the Garden time everybody! Time for wall to wall media coverage, local music 'personalities," and lots and lots of Grain Belt Premiums! Oh yeah, and there will probably be some music as well! Though the fact that the local festival seems to sell out of tickets prior to any bands being announced implies otherwise, we firmly believe that people do in fact care which bands are playing.  So in our annual RTG prediction post, we attempt to read the bones, divine the spirits, and test the winds; all in an effort to tease out just who will be playing this year. Will it be the long-awaited local Replacements reunion show? Or perhaps some fresh new indie rock band who wasn't already playing the Firefly Festival in Delaware? Only the great masters at 89.3 the Current can truly know. But here are our best guesses anyhow for the now two-day music fest.
BEST GUESS:
Headliners:
The Replacements
It seems like it will be a huge letdown if this doesn't happen, right? Also, I heard they are from here or something?
National Billing:
Broken Bells
The kind of benign but likable pop music that is deemed "alternative" by the powers that be in this city. Their slick but inoffensive sound seems like the golden egg for this event.
Local billing:
Jeremy Messersmith
Since The Current invented him and all.
AWESOME LONG SHOT
Headliners:
Outkast
Because they are legends and the last time they were here they had to open for Moby, which should be considered a crime against humanity. Also, if Outkast don't come here on their mega tour, our feelings will get hurt.
National Billing:
William Onyeabor / Omar Souleyman
Wouldn't that be a coup? "Hey William, come out retirement and give up your 'I've found God and he doesn't like pop music' beliefs for this public radio event in a state you've probably never heard of, OK?
On the more realistic side, Souleyman's new Fout Tet produced album is a banger that would blow some minds.
Local Billing:
Greg Grease/ ZULUZULUU, Marijuana Deathsquads, Beat Detectives
Freak out the squares.
THE HORROR!
Headliners:
Mumford and Sons, Dawes
I think they have been on this portion of my list every year, yet despite my constant objections they are now a realistic option for headlining. I honestly blame that on the Current. Shame on you.
National Billing:
Courtney Barnett
I listen to the Current a couple times a week when KFAN is talking about something I don't care about and I can't get KFAI or Radio K, and it seems over the last month every single time I tuned it they were playing the same song. It took a little internet sleuthing, but this woman is responsible for the song. Seems reasonable if they play her songs a million times a week they'd invite her to this show, right?
Local Billing:
Soul Asylum/The JayhawksOr any lazy "glory days" choice that isn't the Replacements. We've got a vibrant, diverse local music scene that deserves a chance on the big stage. Don't be lazy.
The Replacements. The Replacements have yet to do a show in their home town – logic suggests that they must have some deal with the Current set up. It might seem a bit strange that a band known at one time for being rowdy and anti-establishment to play an event that represents the exact opposite of that spectrum, but hey – people change.
Okkervil River, Beirut, Thao and the Get Down Stay Down, Ra Ra Riot, Best Coast
Sonny Knight and the Lakers, Southwire, Jeremy Messersmith, Lizzo, Caroline Smith, Lake Street Dive.
Tom Waits and the Talking Heads
 The Dirty Three, Death Grips, Mulatu Astatke, Killer Mike, Françoise Hardy.
Sonny Knight & the Lakers, Rabbit Holes, STNNNG, Wavepool, Robust Worlds, The Blind Shake, Michael Yonkers and Jim Woerhle reunion.
Cold War Kids and Foster the People
Yellow Ostrich, Mike Doughty, The Kooks,
A live discussion featuring local music media personalities. A screen set up to project pre-screened  live tweets from the crowd. i.e. OMG Cold War Kids are just KILLING IT!!!Luv RTG #rockthegarden
Adam

BEST GUESS:
Headliners: The Replacements and The National
National Billing: Avett Brothers, Chvrches, Phoenix
Local Billing: Dessa, Jeremy Messersmith, Cloud Cult, Polica
AWESOME LONG SHOT
(I'm getting slightly more realistic this year but secretly Suicide and Pulp headliners is my dream)
Headliners: Outkast and Daft Punk
National Billing: Guided By Voices, Kurt Vile, Superchunk, The Knife
Local Billing: The Blind Shake, Buildings, Real Numbers, France Camp
THE HORROR!
Headliners: Macklemore and Vampire Weekend
National Billing: Death Cab For Cutie, Dawes
Local Billing: Howler doing a 4onthefloor cover set (Repeat from last year. Dare someone to make it happen)