Muja Messiah: God Kissed It, The Devil Missed It Review (Show Friday!)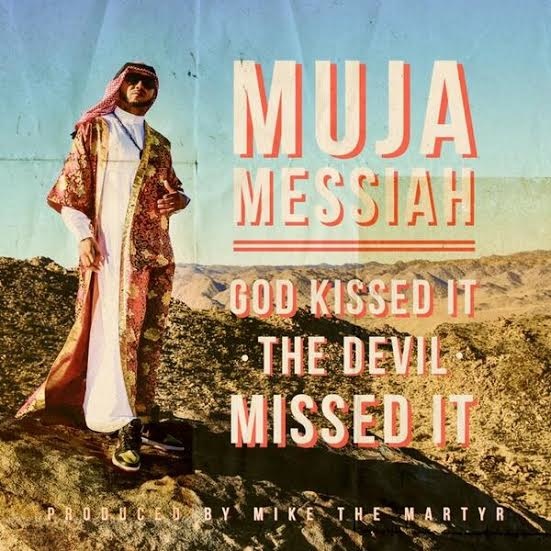 If there's one thing you can count on, it's always that Muja Messiah will provide a great deal of dopeness. Since Thee Adventures of a B-Boy/D-Boy, and as a seminal member of Villa Rosa and Raw Villa, Muja continues to crank out quality material at a moment's notice. So on his newest album, God Kissed It, The Devil Missed It, he teams up with Mike The Martyr to create yet another great opus that sees Muja at his sharpest, and Mike providing great soundscapes that harkens back to the best of mid-90s East Coast rap, with little flourishes of a new era being ushered in.
Starting off with the soul-tinged guitars on "Messiah Complex," where he just goes for self, while the violins provide a melodic backdrop for Muja to do the damn thing on "God's Work." Elsewhere, there's the guitars and pianos over the cacophonous and hard hitting drums of "King Joffrey," while Mike provides a triumphant and heroic banger on "Pocket Full of Slave Owners," with Brother Ali and Muja trading wisdom, while on the highlight "The Bible Belt," subdued guitars provide the backing melody. All the while, Mike the Martyr does what comes natural as a producer, providing Muja with beats drenched in vintage soul, giving God Kissed It, The Devil Missed It an adventurous and familiar soundscape that allows Muja to give some of his best verses yet.
Speaking of Muja, he never loses a step, and still manages to keep the intensity intact, claiming "it's open season on you hopeless heathens" on "The Bible Belt," while Muja's vocals cut through perfectly on the forceful orchestration of "Fire Mountain." Elsewhere, Muja & I Self Devine join forces on "It Goes Down," and provides a tip of the hat to the old school breakbeat stylings of "SharkMeat." Regardless, Muja keeps his lyrics succinct and descriptive, and striking with a razor sharp wit to remind you why he's lauded as one of the local greats.
Overall, God Kissed It, The Devil Missed It is Muja and Mike at their respective height, providing dexterity and detail over 55 minutes, giving the album a very fluid feel and chalks up yet another classic in Muja's discography.
– Review by Ali Elabbady (@egyptoknuckles, Background Noise Crew)
Muja Messiah will be celebrating the release of "God Kissed It, The Devil Missed It" with a release party on Friday, May 23rd, at 7th Street Entry. Joining Muja live will be Mike The Martyr, Metasota, Bobby Raps, Grip, Nazeem, DJ Simone DuJour and DJ Turtleneck, and many more. Doors are at 9pm for this 18+ show, and tickets will be $7 in advance, and $10 at the door on the day of the event. Stream "King Joffrey" below.