Review: Desdamona "No Man's Land" (SHOW SATURDAY!)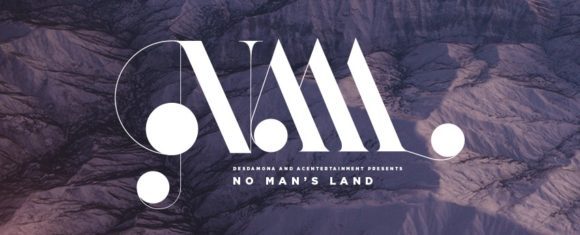 Desdamona was all about smashing the patriarchy rule of hip hop ever since she started.
Even before your favorite artist came onto the Minneapolis scene, Desdamona paved the way for them, performed on numerous bills with them. All this time, she proved a point, whether you took stock in that belief or not; she is equal or better than them. You as a listener might tire of listening to her say it over and over, but Des says it to suspend or delete the belief from your mindstate that there's a separate category for emcees of different genders. It's a sentiment echoed by Jean Grae, Psalm One, Apani, and countless others who operate in a field dominated by men.
No Man's Land, Desdamona's fourth album, and delivered a full seven years since her last album, 2009's Inkling, is a statement with an exclamation mark if there ever was one. Desdamona, as she does on prior releases, dominates the album, but the message is in the album title and its mission statement. Everyone on the album (save for producers such as Big Jess & Brady Glenn, and scratches by Nimo The Hooligan), is female. From the guest verses, hooks, and interludes, all done by a female voice.
The whole mission statement of the album is no different than when she made her appearance on Brother Ali's "We Will Always B" off of his Rites of Passage album, and that's to smash the school of thought that the daily operation of separate but equal in the Hip Hop world. Desdamona does this from the boombastic onslaught of "It Don't Stop," and for the next fourteen tracks, Desdamona and friends hammer away at the horribly held belief that it can continue to be business as usual. Tracks like "The Come Back" ask if you'll join in on the journey, and then "Year of the Cat" with Lioness operate with battle-ready lines to slaughter the best of emcees. The jazzy influence of tracks like "Raincoat," and "Grey City" might provide a little sonic reprieve of sorts, but everything on this album is here to be a call to arms for everyone to change their subset notions of hip-hop, and to practice that equality across the board.
The production provided by Big Jess and Brady Glenn is traditional and textbook hip-hop, "the real shit" that many yearn for, and the bars heavy assault provided by Desdamona and her guests on the album keep the onslaught going. No Man's Land brings that message full circle that she brought to light on "We Will Always B" in real-time, and the relevancy of that message has yet to retreat anytime soon, until we all change.
Desdamona will be celebrating the release of "No Man's Land" with a release party on Saturday, April 16th, at Bedlam Lowertown in Saint Paul. Performing along with Desdamona will be BDotCroc, and PaviElle. DJ Breon Jones will be spinning all night, and there will also be a dance performance by MonaLisa and her crew S.H.E. – She who Holds Everything. The night will be hosted by Bianca "BLovely" Rhodes of the Candy Fresh Show on SPNN. Tickets are $10 and can be purchased here: http://www.sirensound.brownpapertickets.com/ This is a 21+ Event.
— Ali, @egyptoknuckles