FKA Twigs: LP1 Review (Four Takes)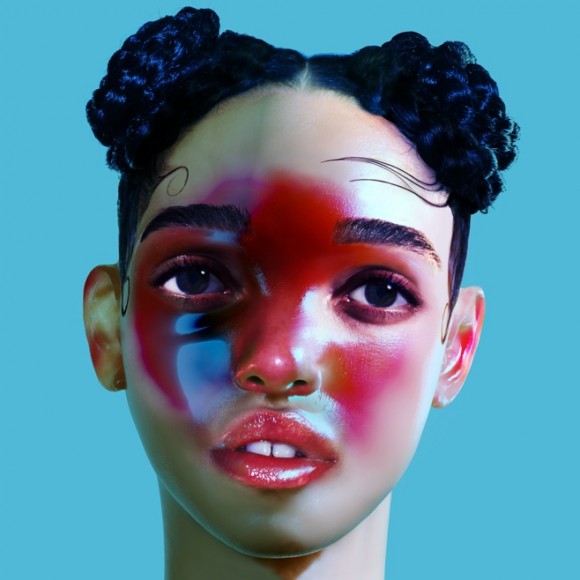 It can be difficult to gain a balanced perspective on an album after reading a single summary of the music. Bias can tilt a review, as can personal taste, history and just about everything else that is unique to the person writing it. So in an effort to offer an expanded perspective in such a medium, here are four reactions, four impressions, four takes on LP1 by FKA Twigs.




Ali (@Egyptoknuckles, Background Noise Crew)
91/100
FKA twigs has caused quite a stir since her debut EP, but don't get her simplicity twisted. Amongst the atmospheric and almost whimsical sonic qualities, her voice is a thing of marvel as her breezy easy vocals simply cut through pounding drums and synths. On her album, the simple titling continues, but one thing that isn't missing is the dynamic range that she can easily brisk through. Take for example the muted and thudding drums on the lead-off "Two Weeks," or the multi-tracked symphonics on the introductory "Preface." Comparisons are not easy, as she is able to keep the production experimental enough to make repeated listens uncover something new at each turn, such as on the highlight "Hours," while the newly debuted single "Pendulum," sounds like one of those rainy nights in a big city. Her awesome and eye-widening falsetto manages to dazzle as every sonic sea change shifts, especially on the head-nodding "Video Girl," and "Numbers" almost comes across as a haunting mesh between the vocal harmonics of Portishead and the sonic landscape of early Massive Attack. Again, it's very hard to compare FKA twigs to anyone out there, as with LP1, she definitely creates something here that will definitely have folks talking, but, it's hard to deny such a voice that stands out amidst the sonic chaos.


Jon Jon, @SoundVerite
96/100
UK dancer, choreographer, producer, and artist Tahlia Barnett, who goes by FKA twigs, has made a wonderful, sprawling, arty, and challenging debut with LP1. Produced by FKA twigs as well as producers Arca, whose status was raised by his work with Kanye West and who worked with her first recordings EP1 & EP2. Also includes production by Sampha, Paul Epworth, Dev Hynes, Clams Casino and Emile Haynes. With her first two records EP1 & EP2, Barnett hinted at where she'd go. On her debut long player LP1, she goes the full rainbow of soulful electronics, sampled, looped, and textured in a very personal way. FKA Twigs works where Bjork and Aaliyah references all make sense as well as a shared sense of modern sensibilities with artist like Grimes, James Blake and xx.
Barnett quotes the poet Sir Thomas Wyatt when she sings, "I love another, and thus I hate myself" on the opener "Preface" like an erotic prayer, twirling, creeping and sinking in. She confesses of gaining a special trust that allows for a new space on the sultry on "Lights On". She sings "when I trust you we can do it with the lights on', I'll tell you all my secrets and whisper to the days done". FKA gets a nice assist from producer Paul Epworth on the stunning "Two Weeks". The records centerpiece, the cinematic "Two Weeks" soars as Barnett proclaims "I'd put you first, just close your eyes and dream about it/higher than a motherfucker, dreaming of you as my lover", her conviction and dedication is real. With heavy mental, slow flow she yearns on "Hours" with assists from Dev Hynes and Clams Casino with cries of "I can kiss you for hours". More confessional as she awaits a lovers commitment on "Pendulum" she wonders "I've got time but you're tired of waiting, you only want me in open spaces/ Come fill your gaps with people, I know no one/ So lonely trying to be yours, when you're looking for so much more". From her previous life "Video Girls" , where she recalls how "The camera loves you/Ain't that enough?" yet …"she's the girl from the video, you lying you lying". Questioning insecurity, asking if she's getting played on "Numbers". Darkness prevails "why you gonna make me cry" invoking early Bjork with production by Sampha. "Closer" has hints of Cocteau Twins and "Give Up" goes in on 1990's R&B dialing in Aaliyah. She closes with the slower tweaked out burner "Kicks", where she expresses how to make herself feel good "I love my touch, know just what to do, so I tell myself it's cool to get my kicks like you."
Not afraid to show her vulnerability, with a debut that includes "Lights On", "Two Weeks", "Hours" ,"Pendulum" and "Numbers" that make LP1 a contender. Forget what you thought about her enchanting videos, her melodies, sexy futuristic R&B, brings to mind the haunting beauty of Massive Attack, with the sensuality of Bjork, for a new Post-Feminist. A modern, mechanical, jittery, hypnotic ode to getting closer, examining oneself, completely enthralled by contact with another person's touch.



Jon, Reviler
LP1, the debut record from British songwriter FKA Twigs, sounds like a lot of things. It sounds pretty bizarre, for starters. Over the course of stuttered beats, crackles, and ghostly atmosphere, Twigs manages to breathe weird new life into trip hop, a genre formerly known as "dated." In that regard this LP reminds me a lot of Portishead's Third, a record that achieved a similar feat. Unlike Third, however, this isn't a case of a veteran artist redefining their sound. This is FKA Twigs' first record and as such, it doesn't quite scream masterpiece (though Twigs is off to an excellent start).
FKA Twigs also sounds unique. She's got a style that I can't quite put my finger on but I know it's there. At times she sounds cold and remote: a robot programmed to sing in pitch perfect tones about the impossibility of love. At others, however, she's all too human: depressed, desperate, a little crazy. While it doesn't seem to add up on paper, in FKA Twigs' music the contradiction becomes the definition. While plenty of R&B singers could match Twigs' vocal ability, her originality is untouchable.
Lastly, Twigs sounds like she's got room for improvement. As I said before these songs are good, weird, and original; however there are a number of songs which aren't quite as timeless as some of the critical praise has implied. That being said, if FKA Twigs improves on her songcraft even slightly she's going to have a real classic on her hands, and I eagerly await (no, "expect") the coming of that day.



Josh, Reviler
85/100
There has been a movement of deconstructing electronic and R&B music over the last few years, with various levels of success among these projects. Taking the ear-candy melodies of mainstream pop music and running them through the hazy, minimalist gauntlet that hip-hop producers like Clams Casino have (nearly) perfected, FKA Twigs might have made the best effort yet in the latest iteration of this genre. Even for someone like me, who isn't the biggest fan of this genre, the Aaliyah-esqe vocals sound more like the missing ingredient to the downbeat aesthetic than the more plaintive vocals of groups like How to Dress Well or the more poppy versions of too groups who are riding this current trend. A streamlined, dark, and sexy record that musically seems stripped to the bone, LP1 has a feeling that meshes incredibly well with the lyrical content. Tahliah Barnett, the singer and producer from London behind this semi-mysterious project, sings about love and lust, highlighting the gray area that can come between the two. From the dusty sonic production to the shimmering vocal stylings Barnett brings to the table, this is a record that stands on its own two feet, even among the near deafening critical praise and the hyperbole that surrounds debut albums like this that seem to capture the musical zeitgeist. It isn't an album that will race to the top of my Best of 2014 list, but it is a really good record that seems to more fully introduce (following two solid EPs) an artist that clearly is going to make some waves.