Peaking Lights: Cosmic Logic Review (Three Takes)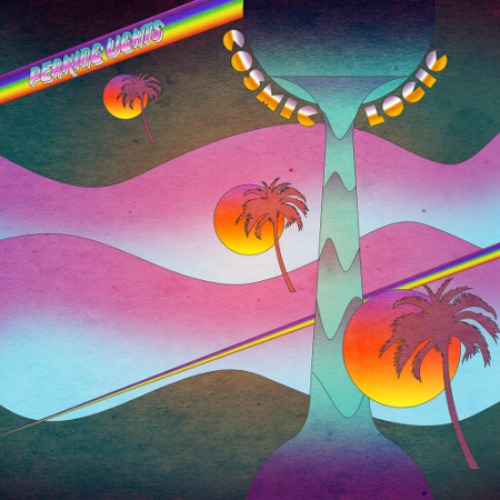 It can be difficult to gain a balanced perspective on an album after reading a single summary of the music. Bias can tilt a review, as can personal taste, history and just about everything else that is unique to the person writing it. So in an effort to offer an expanded perspective in such a medium, here are three reactions, three impressions, three takes on Cosmic Logic by Peaking Lights.



Jon
60/100
Peaking Lights newest album Cosmic Logic represents something of a "cosmic" shift from the dubby, blissed out groove the duo had previously carved for themselves. In a sense, listening to Cosmic Logic kind of feels like the drugs have worn off and the lights have come on and suddenly everything is harsh and unflattering and its time to go home. Vocalist Indra Dunis, whose lyrics previously kind of melted into (and positively reinforced) the tunes, now sounds much more up front and in your face. The resulting vibe is not favorable. Dunis's lyrics aren't very sophisticated when put under the microscope, and her flat affect makes her urgings to dance sound a bit disingenuous. The record starts off positively enough with off-kilter pop tune "Infinite Trips." However the sound suffers from then on with the banality of the lyricism makes the songs sound like very little though or effort were involved. Even "New Grrrls," a shoutout to strong female trailblazers, sounds like it took about 5 minutes to write and more or less groups lists of artists around the simplistic chorus. I still like Peaking Lights a great deal and spin my copies of 936 and Lucifer regularly. When it comes to Cosmic Logic though I will have to pass.


Ali, @egyptoknucles / CEO Background Noise Crew
70/100
After a show of promise on their debut album 936, and presenting something more ethereal and grander on Lucifer, for some odd reason, Cosmic Logic sounds very middle of the road for Peaking Lights. Cosmic Logic by all accounts sounds like they're trying to pull their best Giorgio Moroder impression to somewhat lackluster results, as can be heard on such tracks as the yawn worthy "Breakdown," or on the kickoff of "Infinite Trips," which sounds like a carbon copy of 80s new wave modern rock. However all is not lost, as there are a handful of tracks that show promise, such as on "New Grrrls," or the flashback to the Peaking Lights we all are fond of on "Eyes To Sea." While it is a release that's half the length of their breakthrough Lucifer, the sonics presented on Cosmic Logic are not as enthralling as their past works, and therefore causes it to be a very meh type of release.


Josh
68/100
I came into Cosmic Logic as a big fan of the dub-influenced electronic duo Peaking Lights, but the sugar high from their great two LP run (936 & Lucifer) seems to have finally lost its luster. The duo seem to have grown tired of creating the kind of deep-grooved body highs that made their last two LPs do good, instead going for a more bombastic, pop-laden LP. There is some warm nostalgia on tracks like "Everyone and Us" & "Little Light," but too often the sounds border on cheesy and overdone. Especially on tracks "Telephone Call" and "Eyes to Sea," the group ventured too far from what they do well, and where there previously was lush and full bodied there are paper-thin melodies and silly lyrics. There are moments on the record where I wondered if this had been someone else, a group who I didn't have a previous reference point for, whether I would have liked it more. Songs like "Bad with the Good" feel slightly overwrought and excessive for a Peaking Lights LP, but I think I may actually really like it if done by some other group. Either way, this feels like a misstep for the group, and mostly makes me want to pull 936 off the shelf and give it a spin. Still am a fan of their work, but hope this was a mid-career left turn, not a long term shift in strategy.
[soundcloud url="https://api.soundcloud.com/tracks/167980302″ params="color=ff5500&auto_play=false&hide_related=false&show_comments=true&show_user=true&show_reposts=false" width="100%" height="166″ iframe="true" /]