Is/Is: Shadow Days CS Review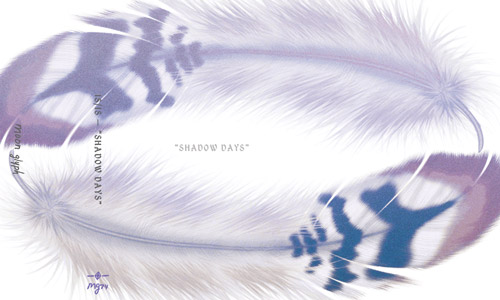 The two Sarahs (Rose & Nienaber) who make up Is/Is are well known to MPLS/St. Paul music fans, even if they have left us behind for warmer climates, oceans, and whatever else people do when they don't spend half the year shoveling. Their music, via their various projects, ranges from fuzzy (Nienaber – Gospel Gossip) to psyched-out (Rose – First Communion Afterparty) to acid-fried country haze (both – Web of Sunsets), with the duo using their Is/Is moniker to scratch multiple different itches.
On their latest tape, the very-aptly titled Shadow Days, their outlook is dark and the road is vast. From the midnight folk of "Before the Stars" to shimmering but wistful "Blank Sky," it is a pretty and low-key album that strips away the fuzz while leaving the misty fog that both seem included to pepper throughout their music. The closest they come to picking up the pace is the mid-tempo "Palmers," where a circular riff of chords goes toe to toe with a tambourine, while lush vocal melodies dance above the fray. It is a hypnotic album that doesn't feel forced, an album that has a slower pulse but an undeniable spirit.
Shadow Days fits squarely within the duo's growing discography, neither the most starkly profound work they have done nor a repeat of their previous work. While not as poppy as Web of Sunsets, nor fuzzy as their other bands, it falls somewhere in the middle, and album that seems destined for late night spins, especially on increasingly cool fall nights. It highlights their ability to craft songs, but even more than that, their ability to craft atmospheres that feel much bigger than a jumble of chords and some notes that fit within the designated key. Shadow Days is a slow cooker, and another gem from a duo who never seem to be able to settle down.
[soundcloud url="https://api.soundcloud.com/tracks/168005586″ params="color=ff5500&auto_play=false&hide_related=false&show_comments=true&show_user=true&show_reposts=false" width="100%" height="166″ iframe="true" /]
[soundcloud url="https://api.soundcloud.com/tracks/168006708″ params="color=ff5500&auto_play=false&hide_related=false&show_comments=true&show_user=true&show_reposts=false" width="100%" height="166″ iframe="true" /]
[soundcloud url="https://api.soundcloud.com/tracks/168013693″ params="color=ff5500&auto_play=false&hide_related=false&show_comments=true&show_user=true&show_reposts=false" width="100%" height="166″ iframe="true" /]