Flashback Friday: One-derful Records Compliation Review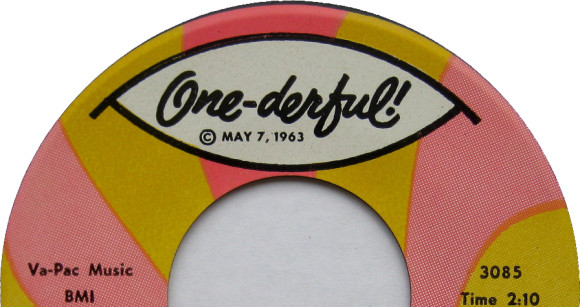 This is a double Flashback Friday. The music on this outstanding comp from local crate-diggers Secret Stash is from a bygone era of funk and soul (60's and 70's), AND this comps is at this point almost 5 months old. So we can look back both decades, and to that distant past of October 2014. The first in a series of reissues looking back at the Chicago label One-Derful (and their sub-labels), this collection crams 25 songs, most of them out-and-out gems, into one wholly enjoyable collection.
The record bursts out of the gate with the searing soul of "Got to Find a Way" by Otis Clay, one of the many songs on this release that had previously not been heard. Whether high octane soul, on tracks like The Sharpees "Take Me to Your Leader," "Do the 45" and The Five Du-Tones "Shake a Tail Feather," or heartbreaking ballads like "The Town I Live In" by MiKinley Mitchell, "Happy Times" by Beverly Shaffer or "All for You" by Wanda Davis, this album is a fun ride of tracks that should have been classics. One-Derful was part of the thriving Chicago funk and soul scene, and with labels like Chess and Vee-Jay, and this first edition of the series showcases some of their premier talent.
There are smooth grooves (The Rockmasters "A Wonderful Thing") and even some almost Motown/Phil Spector-esqe pop on "Seventh Hour" by Liz Lands and "Thank You Love" by Otis Clay. The tracks sound richly familiar on first listen, and like the best funk/pop/soul of the era, have intricate layers that unveil themselves upon subsequent listens. It almost seems criminal that some of these songs are part of the canon of history for music from this era, which only serves to credit Secret Stash for bringing these back to life (and for mastering them in a way that really lets the music shine). It makes you wonder what else it out there, what kind of deserving gems that labels like Secret Stash, Numero Group and Mississippi Records are yet to dig up.
This LP is the first in a series that will roll out throughout this year (in fact, this review is so late the 2nd installment is just around the corner). If this album is any indication, the One-Derful series is going to be an amazing ride. Listen to "Take Me To Your Leader" below, and go HERE for more info on the record/series and to buy this LP.
[soundcloud url="https://api.soundcloud.com/tracks/165886356″ params="color=ff5500&auto_play=false&hide_related=false&show_comments=true&show_user=true&show_reposts=false" width="100%" height="166″ iframe="true" /]