We Went There: Viet Cong at the 7th St Entry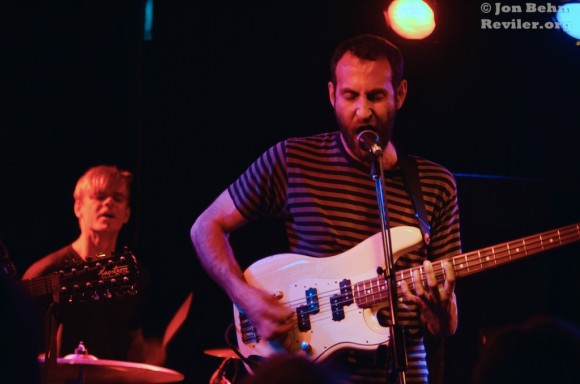 Viet Cong don't have much of a back catalog, but that didn't dampen the enthusiasm of the sold out 7th Street Entry for the group's rousing Minneapolis show.
Fighting through some sound issues and a sweltering, and I mean sweltering, packed-to-the-gills room, the band charged through a nearly hour long set that ran through their outstanding debut LP and wove in a few of their other tracks. Formed out of the ashes of the great Canadian band Women, it wouldn't be fair to call them a "new" band, but they are in fact the best of both worlds. Guys who clearly have well-honed chops, but in a shiny new package. Even with some of the issues, the four piece had the crowd eating out of their hands. Like on the record, standouts included "Pointless Experience," "Continental Shelf" and "Silhouettes," all of which found bassist/lead singer Matt Flegel dropping his sinister baritone into a growl that sounded like Jim Morrison channeling Tom Waits. It added a layer of grit to the polished post-punk.
The group's 60ish minute set ended, like their record, with an extended take on the track "Death," which vamped, paused, marched, stuttered and crashed for over 10 glorious minutes. In a pleasant surprise, they did no encore, instead sending the sweaty masses back into the night on a high note.
Riding a wave of buzz, the band lived up to the hype at the 7th Street Entry. I don't imagine they'll be playing this small of room again the next time they are here, but I'm confident they will fill up whatever room they book.