Viet Cong: Viet Cong Review (Three Takes)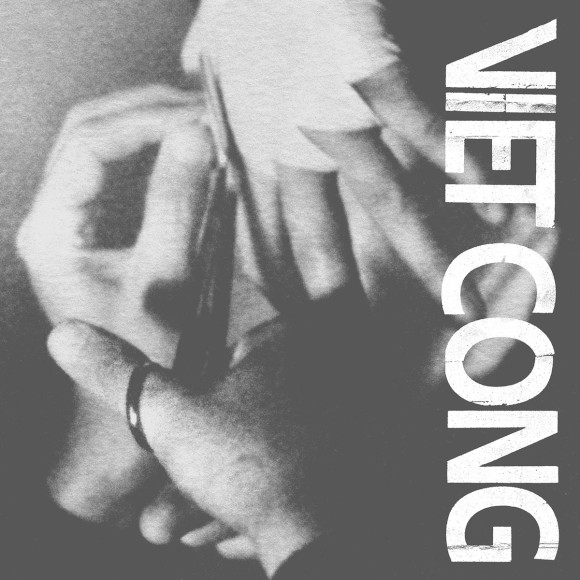 It can be difficult to gain a balanced perspective on an album after reading a single summary of the music. Bias can tilt a review, as can personal taste, history and just about everything else that is unique to the person writing it. So in an effort to offer an expanded perspective in such a medium, here are three reactions, three impressions, three takes on Viet Cong by Viet Cong.

Atom Robinson, @atomrobinson
78/100
Back in the late 80s and early 90s, people had an image of what music would look like during the 21st century. If you look at Frank Miller's comics or watched a movie like Wim Wenders' "Until the End of the World," you got a sense that we'd be watching music more than we'd be hearing it, and it'd be gray and neon, angular, driving and apocalyptic. The world would be ending, and as we watched it happen on our tvs, the soundtrack would be big and loud and weird.
Viet Cong's debut full(ish) length album sounds authentically like what that music looked like. Distorted vocals, hiss and static filled production, and influences pulled from all over the map drive this really solid album forward. Songs build up and lift off, and there's a perfect tension between driving pop hopefulness and apocalyptic doom.
The opening of "Newspaper Spoons" is reminiscent of Tom Waits breaking up a chest of drawers at the beginning of "Big in Japan." From there the album devolves into deep, heavy post-punk with thumping synth basslines and swirling synths.
After a pounding, hissing introduction, the album's standout track, "March of Progress" lurches into these vocals:
Lately, there's a wound that needs some healing
Soon, before the infection can set in
sweetly, in near Beach Boys harmony, all while backed by a tinkling Asian harp sound. The last quarter of the song, though, is fueled by overlapping synth lines over a driving bass line. It's a beautiful mess of a song, cramming oh so much into its six minutes.
"Bunker Buster" is post Talking Heads funk, but more present and vital. "Continental Shelf" was one of my top tracks of 2014, and in the broader context of the album it sounds even fuller and more muscular. It's like a heavier, fuzzed out "Blood Money" by The Church.
This isn't throwback music or some kind of neo-futurist revivalism. This album is actually what music at the end of the world sounds like – sad and hopeless, angry and joyful and hopeful – because it's being made right now.
Ali Elabbaby, @egyptoknuckles
87/100
Combining elements of Wire with with the cacophonous low-fi aesthetics of Japandroids, Viet Cong release what will surely be considered by many as a wonderful debut. With the members of Women, Mike Wallace and Matt Flegel, their debut album is reminiscent of the Phil Spectre wall of sound, with chilling and droning guitar riffs, and 60s styled grooves that will definitely pique some interests, such as the lead-off and guitar driven "Newspaper Spoons," and the stark reverb heavy drums of "Pointless Experience," help pave a little bit of a tip of the hat to the past days of Women, whereas the heavier elements start to take hold on "March of Progress," while brighter guitars and synths take hold on "Bunker Buster." The more moodier and heavier elements make a comeback on tunes like "Continental Shelf" and "Silhouettes," and then things come to a drawn-out end of sorts with the closer "Death," an eleven minute extravaganza that serves as a two-part tune that will surely leave fans amazed and bewildered in a good way as to the capability of Viet Cong.
Josh, Reviler
89/100
There is a amalgamation of musical styles that Viet Cong intersect on their self-titled debut LP that really hits the spot for me. The dark post-punk; the angular pop; the sleek neo-new wave; the chugging fuzz riff rock. While the album is short — only seven songs — it packs a heavy punch. If the record only contained "Pointless Experience," "Continental Shelf" and "Silhouettes," it would still probably crack my top ten at the end of the year. It is brooding without being overbearing, dramatic without being cheesy and abstract without losing its sense of meaning. While lyrics like "If we get lucky, we'll get old and die" & "I know you look at things to forget/I know the world in sense of regret" could feel hollow in other hands, the band mix the drama with the right mix of wobbly, pop-psych interludes ("March of Progress") and stretched-out dystopian rumbles ("Death") to make an album that feels like it has an infinite repeat factor. It isn't surprising that a "new" band would create such a powerful debut when you find out that the core of the band came from Women, who had a brief, but powerful, run a few years back. Viet Cong feels like a burst of energy that isn't the peak, but only the first step for this gang of musicians. If they can match, or top, their debut album going forward, they may be on to something special.