Review: Tame Impala & Mini Mansions at First Avenue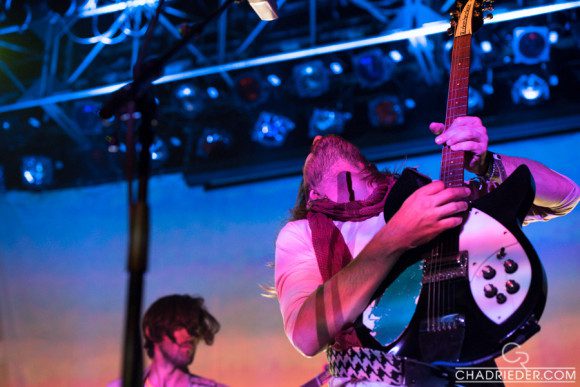 "We are a band called Tame Impala," singer and guitarist Kevin Parker politely exclaimed a few songs in to the sold out show at First Avenue. Reminding the capacity crowd wasn't necessary though, as nearly every square foot of the mainroom was occupied to see the psychedelic rockers from Australia.
With a lot of fuzz buzzing from the speakers, Tame Impala created a cloudy haze then again and again cut right through it. At times, the band led by Kevin Parker, played very loose with some songs extending into noisy jams. Sometimes those jams hit a grinding halt, only to explode back into the original groove much to the appreciation of the mostly young crowd who bobbed along and danced.
"Elephant" from their 2012 release Lonerism hit especially hard. "Mind Mischief" was also great, as was the upbeat "Apocalypse Dreams" that was played before encore break. All night long, the stage was lit with swirling psychedelic colored patterns while dizzying strobes sparkled above the crowd. Tame Impala at First Avenue was more than an amazing musical performance, it was an mesmerizing experience. Tame Impala loved Minneapolis, and the feeling was mutual.
Opening the night was Mini Mansions, a pop-rock trio from Los Angeles led by Queens of the Stone Age bassist Michael Shuman. It was a high-energy impressive performance that surprised many in the crowd. Upbeat songs showcased them at their best, with Shuman front and center switching between banging on stand-up drums and guitar. Bassist Zach Dawes banged out the sound as well, typically playing lead with a thunderous fuzzy sound. Mini Mansions brought a great energy to First Avenue and are well worth checking out.
Photos and review by Chad Rieder.
Contributing photographer