Greg Grease "Born To Lurk, Forced To Work" (Show Thursday!)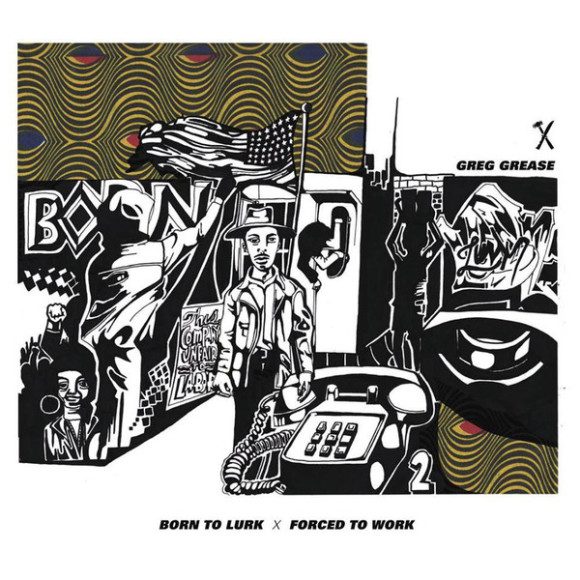 When Greg came through with the whimsical Cornbread, Pearl, and G, many were caught off guard, yet were gravitated to the tales that Greg weaved intricate musings on life, survival, and the dreams to be better than he ever could. Then we got Black King Cole, which many saw as an attempt to whet the appetites of those who enjoyed the work on Cornbread, Pearl, and G. However now Greg comes through with a proper follow-up on Born To Lurk, Forced To Work, an album that takes doo-wop, jazz, and boom-bap hip-hop and gives it a chillwave makeover of sorts, but lyrically speaking, Greg speaks with a fervor and sharp tongue that makes Born to Lurk, Forced to Work a masterpiece in its own right.
Starting things off right with the playful pianos and crushing drum breakbeat on the "Intro," Greg takes no prisoners, and gives the listener fair warning that this is a vibing out to hardships, and that message carries on into the track "Work Song" with its doo-wop tailored chops fitting right in the pocket of Greg's verses, while "Seeing Being" with Ak-Rite, Tall Paul, and Alicia Steele ride the groove of the smooth strummed guitars and subtle keys. Elsewhere, there's also "Really Tho," with xylophones and light saxaphone stabs sprinkled throughout, while Mike The Martyr rolls through with the stark and twittering percussive elements and downtempo violins, as both Greg and Mike ride the flow mercilessly. Vibraphonic elements tickle the reggae-like dubstep rhythms of "Killer Love" with I.B.E, while the pianos make their subtle and melodic entrance on "Rip Van Winkle."
Throughout Born to Lurk, Forced to Work, Greg continues to prove time and again why he is among the elite in the scene, as this album's cohesiveness and themes definitely are the songs of the working man. Think Bob Dylan's "Maggie's Farm" infused with the spirit of Wu-Tang's "Can It Be All So Simple," and infused with the spirits of jazz, doo-wop R&B, and countless other elements, and you only begin to scratch the surface of what makes Born to Lurk, Forced to Work an amazing follow up opus for Greg Grease.
— Ali (@egyptoknuckles)
Greg Grease will be performing with ZULUZULUU as they open up for Thundercat at the Amsterdam Bar in Saint Paul. Other openers include Yabil, Lizzo, and DJing the night will be Sarah White and TIIIIIIIIIIIP on Thursday, May 21st. Doors are at 8pm for this 18+ event, and tickets are $3 by RSVP'ing at redbullsoundselect.com, otherwise they will be $10 at the door. This event is brought to you by Greenroom Magazine and Red Bull Music Academy.