We Went There: Tobias Jesso Jr. at the Cedar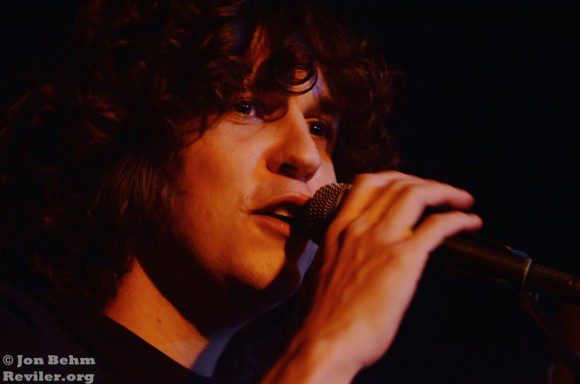 "I'm not gonna leave and then come back because that's bull" said the drunk voice of Tobias Jesso Jr. said toward the end of his bands set. He's got an opinion about encores, and has made it easy for his fans to have an opinion about him. The guy spent half of his concert talking, after all. When a friend asked how I felt about the show, I told her that I had mixed feelings because of all the banter. Just after, I remembered the comment about doing "How Could You Babe" for the encore and reconsidered. Who really gives a shit about longwinded stage presence? Jesso Jr is riding a high of popularity, and it's for a good reason. I'd be a blabbermouth as well.
Tobias saw a small child in the crowd and dedicated "Just A Dream" to her, a song that incidentally is not about him being a father (he isn't). Naturally, he doesn't bring a baby to every show, so the effect of Tobias's jokes was natural. He further proved his honesty while casually discussing past performances. At a Pitchfork Music Festival aftershow, the band toyed with the idea of playing their songs in different styles – a nice move since many of the tunes on Goon take on similar structures. They conquered an afrobeat version of "Without You" before finally settling to play the tune the way it was recorded. We got the spontaneous and the serious in one bite.
Despite certain comments bordering on patronizing, the six-piece band dutifully took solos for closer "How Could You Babe" like they were born to. I asked myself where those moments were the rest of the set, but it was their relative absence that made the song so incredible in the end. Tobias had scoffed earlier about how the set hadn't ended yet because there had been no "How Could You." It figures. I had been looking forward to that song most, and it was pretty funny that Tobias knew this of his crowd. Critique was also easy to forget during "Leaving LA," a clear album highlight that blooms and introduces a few iterations of what could be the chorus. Its ambiguous structure played even better live, Tobias's piano jutting into the horn-highlighted instrumental just about whenever he felt like it.
The show was an extension of Goon. It's true that his work mostly hinges on heartbreak and rejection in that Beatles/piano delivery of his, but the organization of the set reflected this in such a way that maintained his soft heart. He didn't talk about his feelings in between songs. He just cracked wise and simply enjoyed the fact that he was on stage at all. Tobias Jesso Jr is human: a guy with deeply rooted emotions that come out in songwriting who just wants to have a good time while others are present.
— Michael Cyrs, @mjcyrs