Review: Kurt Vile's latest LP b'lieve I'm goin down… (Three Takes)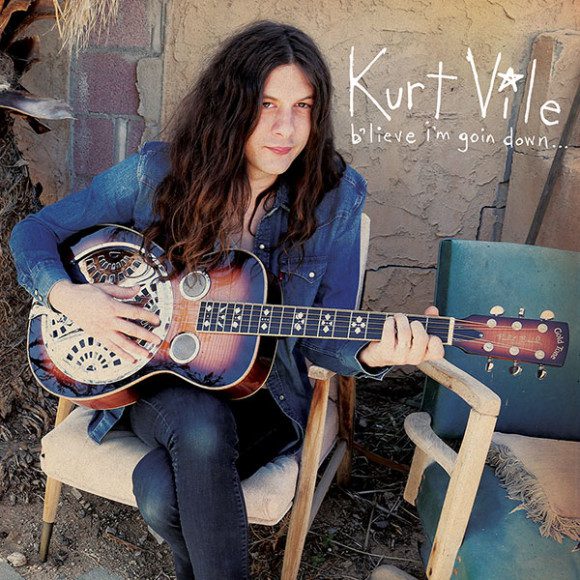 It can be difficult to gain a balanced perspective on an album after reading a single summary of the music. Bias can tilt a review, as can personal taste, history and just about everything else that is unique to the person writing it. So in an effort to offer an expanded perspective in such a medium, here are four reactions, four impressions, four takes on b'lieve I'm goin down… by Kurt Vile.
Jon, Reviler
80/100
Kurt Vile has always been a bit of a mystery to me. I have never heard an artist that I vacillate so widely in my opinion of. The first couple of times I heard B'lieve I'm Going Down I honestly didn't like it. I think somehow more than other artists, Vile brings out the critic in me and I often find myself searching out things to dislike. Somehow despite that, Vile continues to win me over in the end every time. My head tells me that the whole stoic world-weary loner thing is a bit over done, and some of the songwriting lazy (for instance using the refrain "that's life though" for a chorus). But it's something that Vile himself seems aware of and perhaps even part of the plan ("that's life though" IS in fact followed by the line "almost hate to say"). And throughout B'lieve I'm Going Down Vile drops subtle hints that there is more there than meets the eye. In "Kidding Around" he makes fun of trying to deconstruct songcraft. In other places he drops references to his image and self, implying that there is more there than what is on the surface. There's definitely some interesting stuff going on there that I need more time and more listens to figure out. Or maybe the key is that I need to stop thinking about it and just allow myself to start enjoying B'lieve I'm Going Down at face value.
Ali, @egyptoknuckles
87/100
Two years after the Americana heaven that was Wakin' On A Pretty Daze, Kurt Vile returns with his latest effort. B'lieve I'm Goin' Down is a rhythmically fun and engaging look at alternative and americana stylings through Kurt's lens, which keeps his latest effort being a smooth and cohesive ride throughout. Starting out with the head-nodding ditty of "Pretty Pimpin'," the four-on-the-floor rhythm stylings along with the smooth guitar arrangements provide for a nice start to the ride, while "Dust Bunnies" gets a little bluesy with its deep down organ soul. Elsewhere on the album there's the dramatic builder "That's Life Tho (Almost Hate to Say)," while the rich piano and guitars hits to the heart on "Life Like This." Acoustic guitars flutter with great ease on "All In A Daze Work," while the pianos almost sound sarcastically happy on "Lost My Head There." All the while, Kurt's dry, yet nimble vocal work provides nice narration throughout the album's extensive 60 minutes. B'lieve I'm Goin' Down is yet another great piece of work from Kurt Vile, as he's always finding ways to keep the listener's attention, and the instrumental arrangements alone are able to do so with great ease.
Josh, Reviler
88/100
Kurt Vile has always had a bit of the hitting-the-highway feel to his music, but his latest LP, B'lieve I'm Going Down, seems to look more in the rear view mirror than the open road. He still has the reverb heavy, post-Pavement folksy sound that he has built over the years, but he seems more introspective and meta on this LP than any of his previous work. Whether talking about death or the grind of daily work or meditation on the brushing the teeth of the stranger in the mirror (spoiler: they are his teeth), the lyrical content seems to have reached into a darker and more substantial place. Vile seems weary, or maybe he just is less raucous and more in tune with the realities of life.
No matter the motivation, B'lieve I'm Going Down is a stunning work of meticulous songwriting, highlighting Vile's lucid vocals and workman guitar chops. It takes a few spins, but the 12 songs on this LP might constitute the most complete collection of songs in Vile's already strong catalog.
Purchase b'lieve i'm goin down…
from Amazon