Flashback Friday: The Complete Catalog of Legendary Krautrock/Kosmische Supergroup Harmonia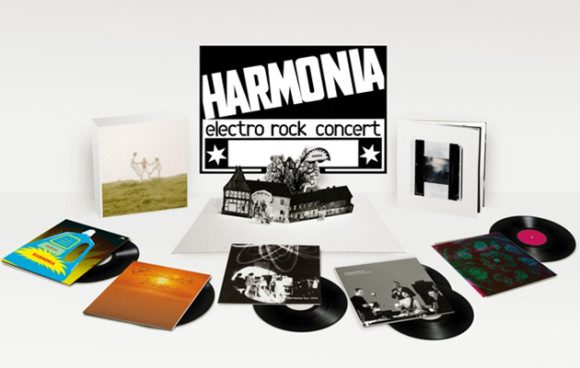 I finally got a chance to read the legendary Julian Cope book KrautrockSampler recently, right as I received a promo for reissues from the legendary Krautrock/Kosmische group Harmonia, which worked out really well in getting me excited for this box set. I knew their work to a certain extent, just like I knew enough about Neu!, Tangerine Dream, Cluster/Kluster, Can, etc, but the worlds colliding was a very cool experience. I had appreciated their lush, symphonic, mesmerizing work in the past, but wasn't fully aware of what brought Dieter Moebius + Hans-Joachim Roedelius of Cluster and Michael Rother of NEU! together to form this short lived supergroup. I won't bore you with the whole details, but if you are interested, their story of escaping to the woods of Germany to find themselves and creating two timeless records (and a third with Brian Eno!) is worth the read.
The latest news from the band involves re-releasing their entire catalog (plus newbies). That means their amazing, almost achingly beautiful ambient soundscape debut album Musik Von Harmonia (1974) and their second and final studio LP, 1975's Deluxe. Their second album expanded their sound, polished their production and stretched sonic boundaries even further. Both sound timeless yet somehow ahead of their time some 40 years later. They didn't have any expensive equipment, but melded together to craft songs that, while stretching to 10 minutes, felt incredibly full of life and without boundaries. The set also includes Tracks and Traces, a album recorded in 1975 with Brian Eno. Eno was a big fan of theirs and tracked them down, but their jams from the farmhouse weren't officially released as a LP until 1997. It is a bit bumpier of a ride, and more sonically challenging than either of their official studio albums. Throughout Harmonia's material, the band churn through simple, melodic and mesmerizing synthesizer based music that lies at the heart of kosmische and krautrock. Sometimes so gentle and serene that is barely registers a pulse, other times driven by the motorik beat that NEU! championed, it works on a plane that favors space and beauty over sheer force. It is experimental, but they sacrifice no level of beauty or landscape as they stretch their (and our) minds. If you haven't heard their work, it is highly recommended. If you've nibbled around the edges of krautrock, maybe listening to NEU! or Faust IV or Tago Mago or Kraftwerk or Tangerine Dream, but haven't dove deep enough to find Harmonia, do yourself a favor and check them out.
In addition to the three "studio" albums from the band, the box set, which will set you back close to $200, also includes their 1974 album Live and Documents 1975, featuring previously unreleased recordings from Hamburg gigs and 2 studio tracks. Find out more and, if you are lucky enough to have an extra $200 sitting around, buy the box set HERE.