Review: New LP from local rap collective Mixed Blood Majority (Release Show TONIGHT!)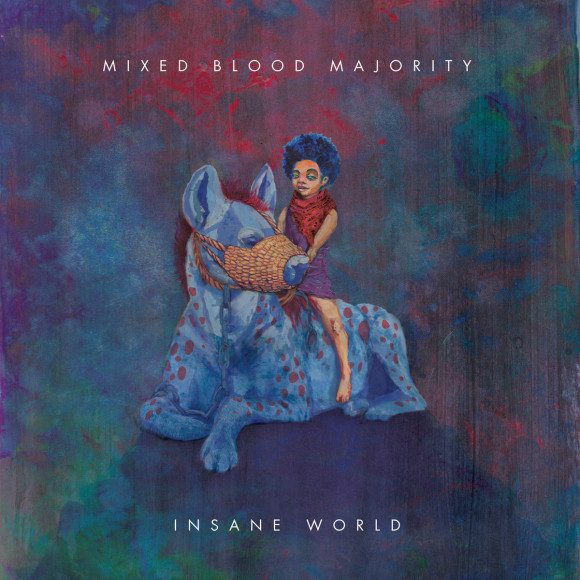 When Mixed Blood Majority's self-titled debut album hit two years ago, it may have seemed like everything was coming into formation way too seamlessly: the fact that the awesome brain trust of Joe Horton, Crescent Moon, and Lazerbeak came together to form this collaborative effort over some stuff from the remaining Lava Bangers sessions almost seemed too well orchestrated to some. Plus the members already had cemented their own legacies with their respective side projects that they all represent. However, for those of you who came with those doubts to the table to embrace their sophomore effort Insane World, you can be rest assured that this is no fluke.
Once again, there's a reason why Mike Mictlan says "LAZERBEAK THE LEGEND GOD," and these bangers provided on Insane World are taking the new knowledge from Doomtree's previous albums No Kings and All Hands and now manifested within the Mixed Blood Majority context, which makes all the percussive elements feel apocalyptic, and the synthwork provides for tense accentuation throughout the album, and helps it make for a much more gripping and amazing listen throughout. Perhaps the most familiar territories for those entering from the previous self-titled album would be on "Blinded" which is equal parts catchy and menacing, or haunting 808 claps and reverbed woodblock taps on "Foxes Den" which almost sounds like if DJ Mustard met TNGHT and made a cut for a scene from a meeting ready to erupt into violence for "The Matrix."
Hot on the heels of a fantastic return with Kill The Vultures, Crescent Moon still proves why he's still one of the most revered MC's out here, and you can note it on such eerie drop-ins on "Foxes Den" and "Blinded," and can still set it off just right on songs like "Private / Public" Joe for the most part resurrects his energetic and bombastic cadence from No Bird Sing's "Theft of the Commons" and has a lot more fire with his delivery, especially on the uptempo numbers or the heavy handed trap-banger nature of songs like "Can't Get Enough" and "I'm With It." It's always great when supergroups of this caliber can pull off a project like they never left, and Insane World is a step up in every way from the group's self-titled debut.
Mixed Blood Majority will be celebrating the release of Insane World on Friday, December 11th (hey, that's tonight!) at the First Avenue Mainroom. Performing alongside Mixed Blood Majority will be P.O.S, and GRRRL PRTY. This is an 18+ show, and the show begins at 8pm. Cost for admission is $16.
— Ali, @egyptoknuckles