We Went There: Jay Electronica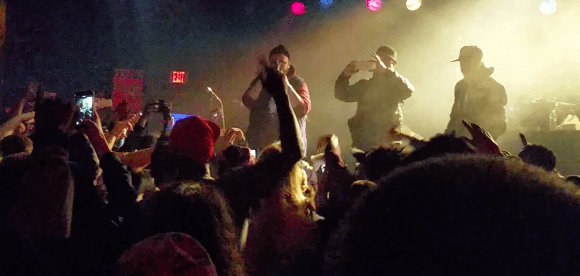 There was a moment, about 10:30 pm Sunday night as Sarah White wrapped up her outstanding opening set, when it seemed like Jay Electronica may hit the stage right at the 10:45 pm advertised set time. Could it be? Could the mysterious, fame-avoiding Jay Electronica really ramble on stage right in at the pre-arranged time? It didn't end up happening, which was probably for the best, as narratives are sad to break, and his mystique is part of the whole package that makes him so great. He ended up being only about 30 minutes behind schedule, which, all things considered, is about as "on time" as most concerts get. Jay Electronica is an artist that has followed his own rules, and worked at his own pace for too long to suddenly adhere to the schedules of the rest of us.
When he did hit the stage, the crowd could not have cared less what time it was, as it was a sea of adoring fans. From the opening minutes, through the haze of smoke, it seemed like everyone was rapping along with the New Orleans rapper. Not just the hits (although set closer "Exhibit C" had a Beatles-at-Shea vibe of the crowd singing louder than the amplified vocals), but all of the cuts. It was a commanding 40 minutes set that, even with multiple breaks to shout out the crowd, never felt like it lost momentum. In addition to playing through his rather small back catalog, he also spliced "Can I Kick It" as a Phife Dawg tribute, asking for any rappers who were "born and raised here." Local MC Metasota fit the bill, and held his own during a long freestyle that seemed to truly impress Jay Electronica. Ending the show performing on the floor in the sea of fans with the aforementioned "Exhibit C," it was a show that burned brightly throughout, and ended on an incredibly high note. No big bells or whistles on stage (just a DJ), he really practiced what he preached when he had the crowd shout "REAL HIP HOP / TRUE HIP HOP" call and response throughout the show. I imagine he could be incredibly rich and famous, but he seems pretty content to work at his own pace.
Opening the show were two local favorites, Greg Grease and Sarah White. Both made our city proud with outstanding sets, Grease backed by a DJ, keyboards and sax, showcasing his kaleidoscope beats and confident rhymes, even if the Sunday night crowd was still gathering steam as they shuffled in. In addition to smokey renditions of tracks from his LP and EP, he busted out a funky, heavy-hitting new Zuluzulu track, which was a highlight of the night. Sarah White was backed by drums, bass and keyboard, and rolled out a commanding, confident, funky and soulful set that only illuminated her in my eyes as a shining star in our scene. Bringing the futuristic R&B to life on stage showcased how she is bringing it on a different level than most of her peers. Both acts owned the stage, helping to round out one of the more complete top-to-bottom bills I have seen in a long time.