Sample music from Fury Things, Lunch Dutchess, Bug Fix, Battlerat, Wretch and Bruise Violet (Show TONIGHT at Turf!)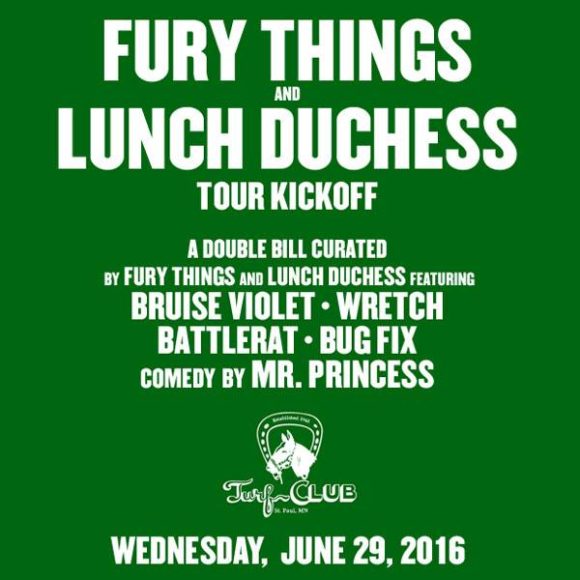 Tonight (Wed 6/29) two great local bands, Fury Things and Lunch Duchess, are pulling together a lineup of local to celebrate their impending tour kickoff. You've seen some of the bands on Reviler, but for the sake of keeping it simple, we've included music from all the bands on the bill tonight directly below. Check out the tunes and support local music tonight at the Turf. Music starts at 8 and it will only cost you $10. More info/RSVP HERE.
Lunch Duchess with their outstanding debut EP My Mom Says I Have A Rich Inner Life

Fury Things just released a heavy new song featuring their shoegaze-meets-grundge sound off their forthcoming EP

Wretch are a local punk band that recently dropped a chaotic, politically charged LP onto the interwebs that you can listen to below.
[soundcloud url="https://api.soundcloud.com/playlists/230050317″ params="color=ff5500&auto_play=false&hide_related=false&show_comments=true&show_user=true&show_reposts=false" width="100%" height="450″ iframe="true" /]
Bruise Violet make grunge-leaning, fuzzy, antagonistic punk and garage pop. Despite being very young, they've released a few records already, the latest of which is below.

Battlerat make heady, orchestrated indie pop. You can sample their sounds below via a recently released EP.

Bug Fix are a supergroup of sorts, combining guitarists from the Red Pens and Birthday Suits with the drummer from Selby Tigers. As would be expected, it is fuzzy, fast, loud and melodic. Check them out below — vinyl EP will be dropping soon!