New Uranium Club. New Uranium Club? New Uranium Club!! (Stream new 7″ from local post-punk heroes)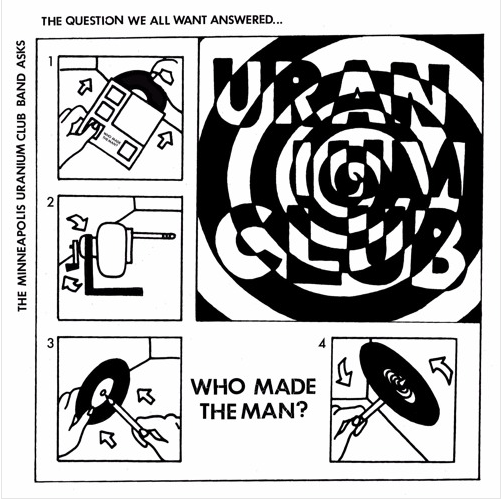 It is with good intentions and purity in my heart that I say that The Minneapolis Uranium Club Band Performs Human Exploration, the debut LP from (The Minneapolis) Uranium Club that trickled into our existence last year, is one of the best local albums of this fading decade. I'll hear arguments against my assertion, but I'm not actually going to listen. The record unravels in new ways each time I listen to it, which is frequently, and is equally funny and enthralling. The bummer was shortly after I fully "got" them, they went and broke up. With no word from the group for most of this year, it felt safe to assume they were going to join the list of really great local bands who bit the dust before the world could catch on to their greatness (I'm looking at you, Dante and the Lobster).
Well, in a situation that happens at a somewhat alarming frequency, I was wrong. The group are back with a snappy new 7″ for a fancy "European" label Static Shock, and they bring the goods again. "Who Made the Man" is a jittery rant of a song that slides along for five wild-eyed minutes with chugging guitars, carnival barker vocals and even a sonic freakout for good measure. At first you'll be perplexed. Then you'll be intrigued. Then you'll be enthralled. Then you'll pay crazy overseas shipping rates for a 7″.
Listen below. H/t to the amazing folks at UnderCurrentMPLS for posting about this first!
[soundcloud url="https://api.soundcloud.com/tracks/283460353″ params="color=ff5500&auto_play=false&hide_related=false&show_comments=true&show_user=true&show_reposts=false" width="100%" height="166″ iframe="true" /]