We Went There: Night 1 of Andrew Broder Turf Club Residency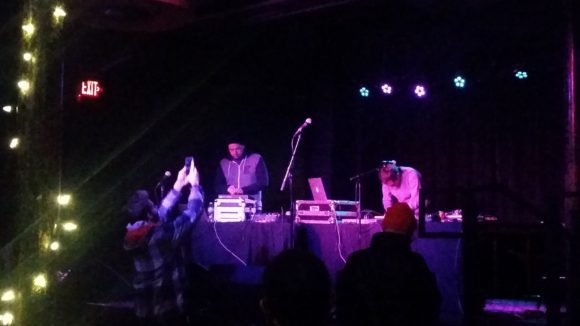 When you go to a benefit show for a cause you believe in, you are basically playing with house money. If the music sucks, or the vibe from the crowd isn't what you were looking for, you can bounce and still feel good about your money was well spent.
But every once and a while, there are shows like Andrew Broder's January Turf Club Residency where you can have your cake and eat it too. The first of four shows was last Wednesday and featured an eclectic lineup that produced great performances and cool one-off improvisations. After an initial DJ set from Channy of Polica (who dj'd throughout the night), Kill The Vultures took the stage for a short and stormy set. Reviler readers know how much we like the rap duo, and no matter how many times I've seen them I find myself absorbed in their captivating, minimalist performance. I really believe when we look back at this era they are going to be a defining act, even if they don't get all of the love they deserve right now. They killed it as usual.
Following Kill the Vultures was a short DJ set from Big Cats, who crafted songs from his wall of equipment. The thing I've always liked about Big Cats, which he also brought during this live set, is that he combines technical wizardry with a real soulful feel. His set culminated with Broder joining him onstage and the two artists trading beats and licks on their turntables and mixers back and forth, really showcasing their talents.
As Big Cats left, Broder did a micro-set of Fog songs, blending his scratching, looping and hypnotic vocals into the spellbinding mess that is Fog. It was great to see him playing songs from their most recent release. Before you knew it, Broder called up Crescent Moon from KtV and they proceeded to play most of the amazing tape they recorded together and released in 2015. It was a real treat to see and hear these songs live, and I've thought since I first heard the CS that it doesn't get the love that it deserves. Judging by the crowd in front of the stage rapping along to all of the words, I'm clearly not the only one.
Throughout the night, between the great sets of music, Broder highlighted the work being done by the Confederation of Somali Community in MN, including interviewing the ED between sets about what all of us can do to support their important work. It was a great night, and set a solid bar for future weeks of containing both a good cause and great music that you literally won't be able to hear anywhere else. Find out more about the whole week with our interview with Broder HERE and check out this week's version with Broderjuana Deathsquads, Dizzy Fae, Andrew Broder & Alan Sparhawk, & DJ Har Mar Superstar.