Andrew Broder announces round two of his January residency, looking to end the dumpster fire that was 2017 and start 2018 on a strong note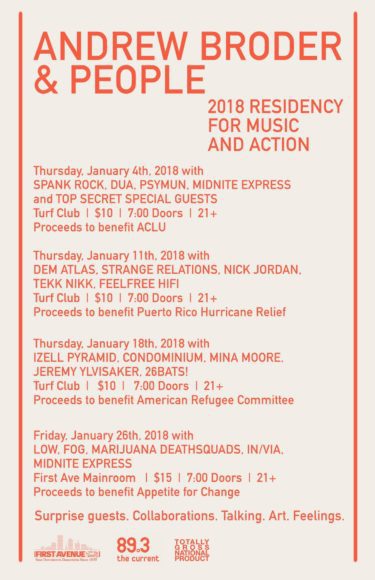 At the start of this year, as we stumbled through the fog of realizing Donald Trump was our president and the awful reality of what that meant, many of us gathered at the Turf Club for the Border and Friends residency every week in January. The shows — in addition to being a kaleidoscope of the rich musical talent — were a good chance to be in community and raise money for some of the organizations who are and have been on the front lines fighting back against the worst shit that this year has laid on our collective doorstep.
In a pleasant surprise, in a year that distinctly lacked such things, Broder will be bringing the residency back. The lineup again is killer, the money again goes to good causes, and we all have a reason to leave our place of dwelling at least one night a week in January. See the full lineup above, with the first three shows at the Turf and the finale at the Mailroom. Should be a blast.