We Went There: Mbongwana Star at the Cedar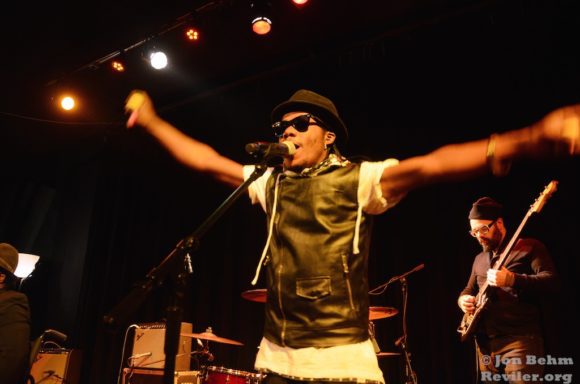 Sometimes you don't realize how tired you are — physically, mentally, emotionally — until something gives you a jolt. Friday night was one of those moments. For the couple hours that Mbongwana Star and ZuluZuluu held court at the Cedar, I felt a rush of energy and good vibes that were just what the doctor ordered.
Mbongwana Star, a band from the Democratic Republic of the Congo who were starting a national tour, did not disappoint the mostly full room at the Cedar. The band, which feature two former members of Staff Benda Bilili, blend a heady mix of afro-funk, guitar shredding, psych pop and a whole range of other genres. The set was full of energy, from guitar solos to deep grooves that caused the crowd to (attempt to) get their dance on.
The vocals were soaring, the rhythms were infectious, and the spirit was high. It was a wonderful showcase of a great band, and the kind of set that you can't help but have a smile plastered on your face for the full show.
Opening the show were local heroes ZuluZuluu, who somehow seem to get better and better. Their set was crisp and lively, showcasing their futuristic funk and R&B as the crowd grew during their set. The band have always had a cosmic soul that radiates from their live set, but their out-of-this-world chops are now just as impressive. Blending drum machine, synths, key, a DJ and silky smooth vocals, ZuluZuluu showed that all of the hype is warranted, and that they could easily have held the stage as headliners. The fact that they were opening, and that the headliner kept pace, highlighted how special of a night it was.
After seeing lots (and lots and lots) of shows over the years, it takes a lot for a show to knock me off my feet and give me that deep feeling of the power of music, but Mbongwana Star and ZuluZuluu at the Cedar did just that. You don't realize how much you need something until it is cascading out of the speakers.